My girls love Hatchimals and in particular the Hatchimals Colleggtibles. We were offered the chance to review a bundle of the new Season 5 Mermal Magic Hatchimals Colleggtibles and they couldn't wait for them to arrive. The Season 5 Mermal Magic Hatchimals CollEGGtibles al have colour changing elements when placed in warm water.
Hatchimals Colleggtibles come in a variety of pack sizes. We were sent a single pack in a mystery box so you don't know what colour egg you are getting, a twin pack with both eggs visible and a nest, 5 pack with 4 eggs and a Colleggtible already hatched and a 6 pack shell carry case.
The five pack that we received included 3 different varieties of egg and an underwater friends character. The eggs represent the different families with the clam shell blue eggs on each end being the most common. This eggs represent the Mermals family and can contain Mermals, underwater friends or Mermal twins.
Found in the pink egg the characters from Blissful Bay are ready to go scuba diving in their helmets and flippers. There are six characters to collect in this family and we received Blissful Beebull.
The green eggs contain the Sunshine Surf family of characters. There are six to collect in this family and they are all having fun on their colour changing surfboards. We received Sunshine Owling.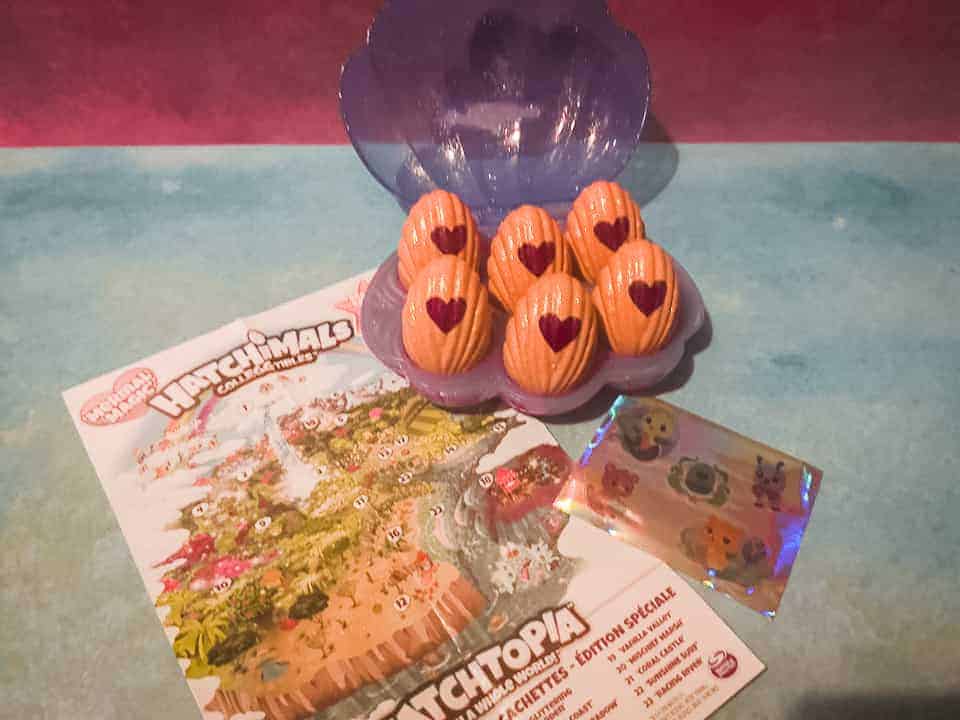 The six pack egg carton contained 6 eggs from the Sapphire Springs family and some special stickers. Each of the characters from Sapphire Springs are holding a gem that is revealed when placed in the water. You rub off the paint layer to reveal the colour of the gem. We received Sapphire Owlicorn.
The purple eggs contain the racing river family. There are 6 characters in this family and they all have cute inflatables so they can ride the racing river. We received Racing Quokkoo.
The gold eggs contain one of six Hatchibabies who love getting messy in Mischief Marsh. These cute Hatchibabies have muddy spots on them as well as nappies. We received Mischief Ponette.
I think that the Season 5 Hatchimals Colleggtibles is my favourite season yet. The fact that they have the added water change element keeps them fun and exciting and they are all very cute.