The LEGO Star Wars sets are always great fun, and the Lego Star Wars AT-ST Walker set from the upcoming movie Rogue One is no disappointment. A gorgeous model which is very true to the original movie CGI model, the walker comes with 3 minifigures – Baze Malbus with his Heavy Blaster, a Rebel Trooper and the AT-ST Driver.
Inside the box we only have a handful of numbered bags as this is a lower sized set with 443 pieces. That doesn't make it easy though. These are mainly small and the body of the AT-ST is quite intricate, plus there's not a lot of colour.
The minifigs are really nice, with loads of printed detail on the Rebel Trooper especially, and double-sided heads on Baze and the AT-ST Driver.
Baze Malbus' Heavy Blaster was the first time we saw the 'black rollerskate'. My new favourite LEGO element and brilliant for so many new uses. Perfect for wheeled 'toys' and miniatures, and as a gun sight. Huge backpack – I can't look at him without thinking of Ghostbusters.
The Lego Star Wars AT-ST itself is gorgeous. It's such a nice reproduction and only the second time in LEGO.
Even from behind it is a really nice shape, and has some lovely printed and stickered elements to add detail. The entire 'head' moves from side to side by turning the wheel at the back.
There is an opening hatch and full roof, and inside a really good cockpit with a stand for the driver at his console. It's neat, and the attention to detail means a lot. It turns it from an empty box into the much more likely cramped, busy space that probably drips sweat and smells fetid.
The Lego Star Wars AT-ST has 2 spring-loaded shooters and moving guns at the front, and moving guns on the sides. Just like the real thing.
Moving down the 'legs', the hips are fixed, and it's as impressive in LEGO as it is in CGI that they can balance all that weight, and they balance well. There's quite a lot of play to get your balance perfect, and LEGO say the legs are posable. We've found it's actually really only a case of two options – either straight or bent. Great for photos and display though.
Huge feet, as you'd expect, and even these have really smooth lines and look great – and just like the real thing.
The AT-ST  Driver minifigure can stand in his stand, but my children prefer to prop him up by his arms and let him peep out of the top. This is a nice set for imaginative play, and no tiny ammo to lose either. A lot sturdier than it looks, my 6 year old hasn't even managed to accidentally smash it apart just yet.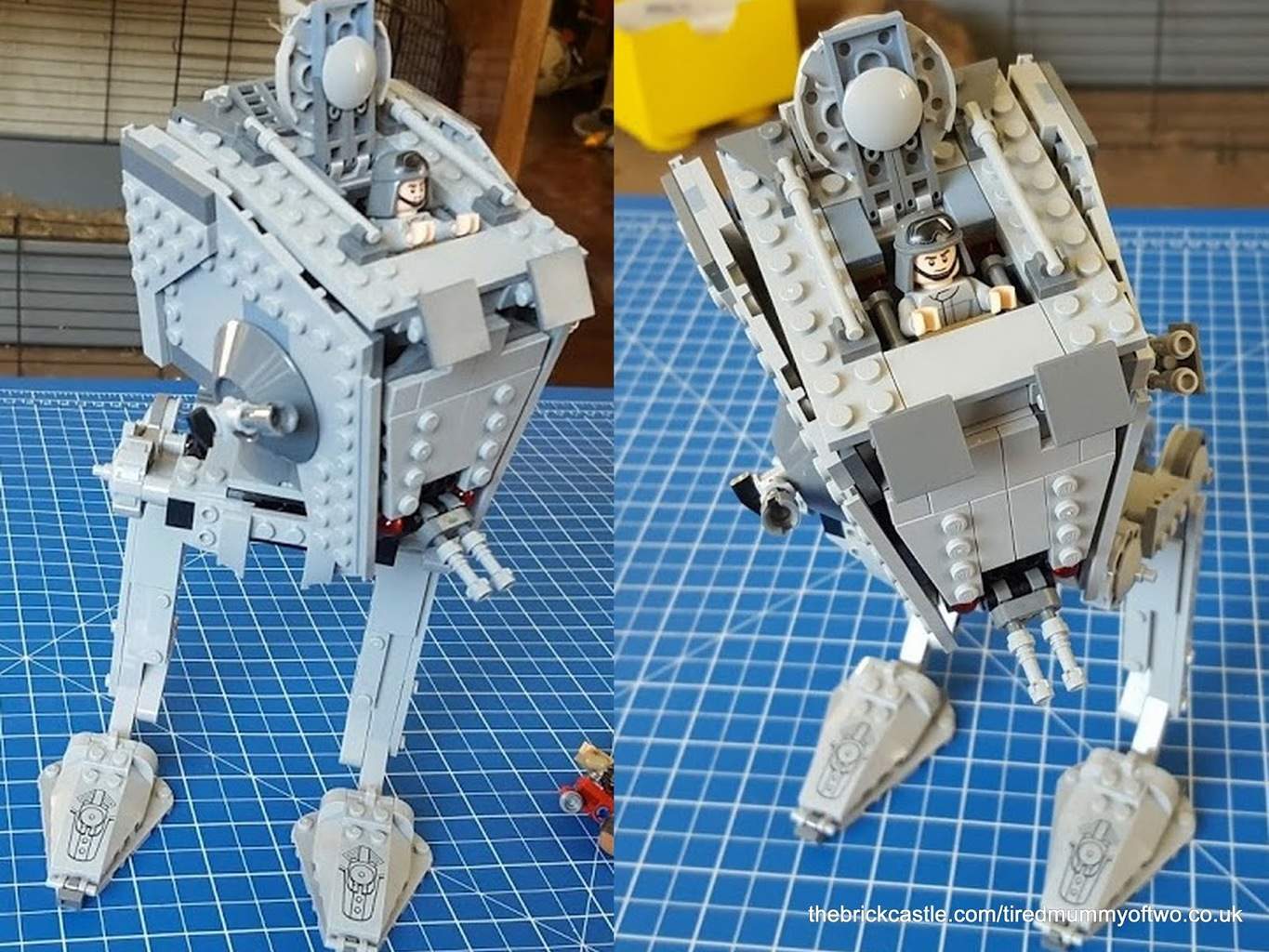 A lovely model which won't disappoint Star Wars fans. Nice playability and a rewarding and intricate build.
The LEGO Star Wars AT-ST Walker set 75153 has 443 pieces and is recommended for age 8-14+. The rrp is £39.99 which is maybe a bit higher than average for your LEGO pennies for a set of this size, but it is a beautifully designed model which is very true to the movie model, and the 3 Minifigures are an excellent addition.
You can buy all of your LEGO online from LEGO.com, where you can also collect VIP points towards free LEGO, and pick up exclusive sets.
Review by Jenny from TheBrickCastle