A few weeks ago we were sent the Cosatto Zoomi 123
car
seat in Two for Joy. The
car
seat
was to replace Elizabeth's old one as it was getting a bit worn after years of use. It is hard to chose a car seat for an older child as there are lots on offer and we have used quite a few.
Apart from the need for it to have pink on it (typical kids) I was looking for one that is wide enough for her to feel comfortable, had an extendible head rest to suit her as she grows and it had to be comfortable for all of the long journeys we take. The Cosatto Zoomi is well padded and extremely comfy as Elizabeth showed by falling asleep very quickly the other day.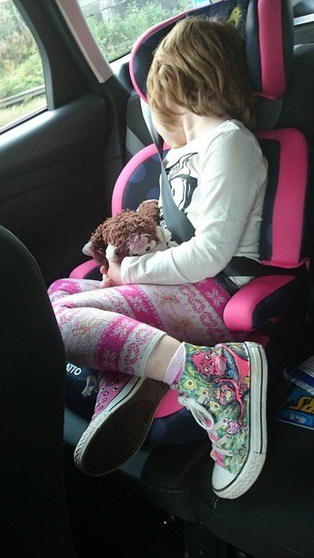 The Cosatto Zoomi is suitable from 9kg to 36kg and is a Group 1, 2 and 3 car seat.  It comes with a 5 point safety harness with quick release buckle although this has been removed in the above pictures to make it compatible with a standard 3-point seat belt. The covers are removable and washable which is great for
kids
as they are bound to make it messy at some point.
We love the design, the comfort and the quality of this car seat and would definitely recommend it to those who are looking to get a new car seat for their older
children
as well as those getting one for their little ones.