Like all fashion trends, bridal fashion changes dramatically from one decade to another. While the 2010s started with a predilection to sexier cuts, the 2020s are dawning with a more traditional look that features femininity and charm.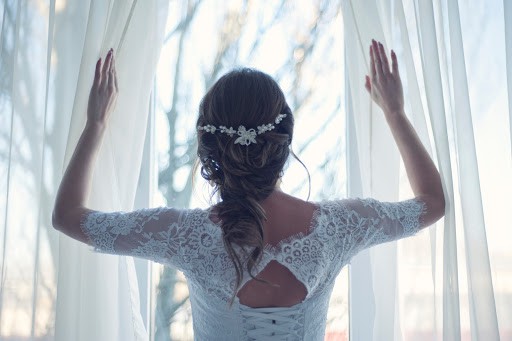 Many of the newer designs draw from previous fashion trends. Here are some of the charming new wedding dress trends this year.
Nude Tones
Nude tones, often paired with a sheer overlay featuring embellishments, offer a balance between sensuality and comfort. This look provides coverage and class without making a bride feel fluffy or frumpy. Nude tones give the bride freedom of movement while providing the illusion of exposed skin.
As this look tends to be less elaborate than many traditional bridal gowns, there are more options for buying one of these beautiful pieces on a budget. Azazie has everything you need to complete the look.
Sleeves are making a comeback in wedding fashion over the past few years, shifting away from the strapless trend of years gone by. Unlike the puffy sleeves of the 1980s, current sleeve trends tend to be lace or sheer in either three-quarter length or full-length.
This charming look adds elegance and an air of royalty without the pomp and circumstance of more formal gowns. This look is also ideal for shoulder and off-season weddings, as more couples aim to take advantage of the cost-savings during these times.
Unadorned Gowns
Another charming dress trend that's growing in popularity is unadorned gowns– the simpler, the better. Many modern brides are referring to this trend as the Meghan Markle effect after the Duchess of Sussex wore a plain-yet-gorgeous gown during her wedding to Prince Harry.
Unadorned, simple gowns act as the perfect canvas for more elaborate accessories, such as jewellery, bouquets, and veils. Cascading and exotic bouquets are still fashionable and floral prints for bridesmaids are becoming more popular. The contrast between elaborate bridal party attire and simple bridal gowns creates a stunning visual effect.
Ruffles and Bows
While some brides are veering toward simpler looks, many are embracing their femininity and charm to the fullest by adorning themselves in ruffles and bows. While these dresses tend to be more elaborate than many current dress trends, they aren't to be confused with over-the-top satin gowns of years gone by.
Many modern ruffled dresses have evolved from the tulle trend of the past two years, only softened and layered. Others gravitate toward the princess-style ball gown with layers of ruffled fabric. Rather than many, small bows, brides are opting for large statement pieces that make an impact on the journey down the aisle.
Capes
Capes are starting to sneak back into modern fashion, with the expectation that they'll be a leading trend in bridal fashion within the next five years. Capes are beautiful alternatives to both sleeves and veils and offer functionality for brides in outdoor settings or religious institutions that require ample coverage.
Capes started to become a statement piece in modern weddings in direct relation to the pop-culture phenomenon Game of Thrones, in which a cape is used as a part of the wedding ceremony as a symbol of protection.
These bridal trends may vary from one another, but share one common theme: they allow each bride freedom of expression and individuality, providing the canvas on which to create her dream wedding.