Karuizawa is one of the hidden treasures that you can find in Japan. Located at an altitude of around 1000 meters, the town has a pleasant temperature in summer and allows you to escape the worst of the Japanese summer heat. The temperature in Karuizawa is around 10 degrees lower than in Tokyo which means it is an ideal location to escape the heat and it only takes around an hour to reach Karuizawa from central Tokyo thanks to the Hokuriku Shinkansen.
People visit Karuizawa from all over the world throughout the entire year but for very different reasons and that is because Karuizawa offers something for everyone all year round. However, you need to take a look at the experiences that you can get during the summer and winter seasons and plan your visit accordingly.
What can you do at Karuizawa during summer?
You can think about visiting the Sports Arena of Karuizawa during the summer season. The sports arena will provide you with the opportunity to take part in a large number of indoor sports. A ticket to the sports arena would cost you around 200 to 300 yen and gives you access to a tennis court, football court and a fully functioning gym. You could also choose to stay at The Prince Karuizawa Hotel which has similar facilities as well as a bowling alley, spa and a nature programme for kids.
You can also go for lots of walks and hikes while you are spending your time at Karuizawa during the summer season. If you love to go on outdoor walks, you can think about this as an excellent opportunity. You can discover a large number of peaks around Karuizawa In fact, the town is located in the foot of an active volcanic mountain named Asmayama. Some people enjoy climbing this 2,500m high mountain but if you want to see something spectacular then you can visit Shiraito waterfalls.
While you are hiking in Karuizawa during the summer season, you are strongly encouraged to think about wearing comfortable and loose cotton clothes.
There a range of places that you should visit on your hikes
Stone Church – The Stone Church was built by American architect Kendrick Kellogg. The architecture is unusual with round stone arches giving it a natural feel with green plants on the walls, streams on either side and sunlight pouring in.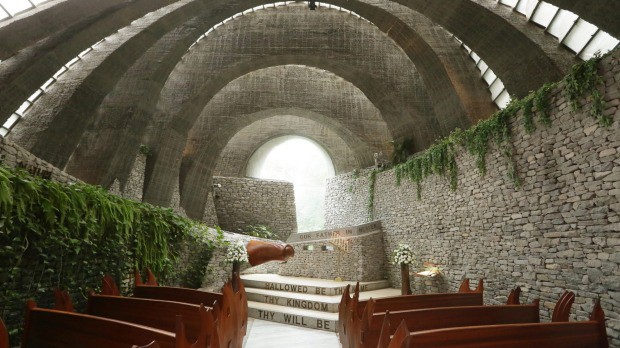 Shiraito Waterfall –  Shiraito Waterfall measures three meters high and 70 meters wide and it is located in the forests north of Karuizawa. The waterfall is created by groundwater which surfaces here.
Usui Pass Observation Platform – The Usui Pass Observation Platform is located above beautiful views of the mountains of Gunma Prefecture on one side and Mount Asama on the other side.
If nature is not your sort of thing, then you could instead visit the Karuizawa Prince Shopping Plaza. A huge 32,000 square meters of retail space full of luxury brand outlet shops. There are also lots of museums nearby and the Karuizawa Toy Kingdom which is a large attraction with both indoor and outdoor activities for children.
What can you do at Karuizawa during the winter season?
People who come to Karuizawa during the winter season are also provided with lots of activities to engage with from skiing, snowboard, ice skating and more there are so many winter-based sports to try in this fantastic region. Karuizawa hosted the Winter Olympics in Nagano during 1998 with Ice skating, skiing and curling three of the most popular winter sports activities that you can discover in Karuizawa. Apart from winter sports, you can hire snowshoes and go for walks around Karuizawa. This is one of the best methods available for the people to explore the woods during the winter season.
VISIT KARUIZAWA WINTER FESTIVAL – The Karuizawa Winter Festival sees the town covered in illuminations, creating a festive evening atmosphere. They set me a fantastic Christmas market, with a variety of stalls and a huge 10-meter Christmas tree.
Whatever the season when you visit Karuizawa, there are so many amazing things to see and do that you will not be disappointed to make this your destination.