Earlier this summer, I was invited along to the RHS Flower Show at Tatton Park to meet the team from Stihl and find out more about their Pro cordless power system. If you were a professional gardener you would already be aware of the Stihl power tools brand but as a household user, you are more than likely as confused as I was. You see I had never even heard of Stihl. This year, however, Stihl have branched out and instead of just providing fantastic quality, long lasting products to professional gardeners they have now developed a range that is suitable for the everyday user.
The Stihl Pro cordless power system incorporates a number of garden tools that all use the same long lasting battery pack and as they are all cordless they provide great manoeuvrability. Whilst at the show we got to feel and test out a few of the products from the range and we were then invited to select one to try at home. We had relieved our gardener of his duties when we got our own lawn mower earlier in the year and this meant that we had started to notice that the garden was looking a little scruffier than usual around the edges. With this in mind, I opted to receive the FSA 56 Grass trimmer and when it arrived Hubby couldn't wait to get started.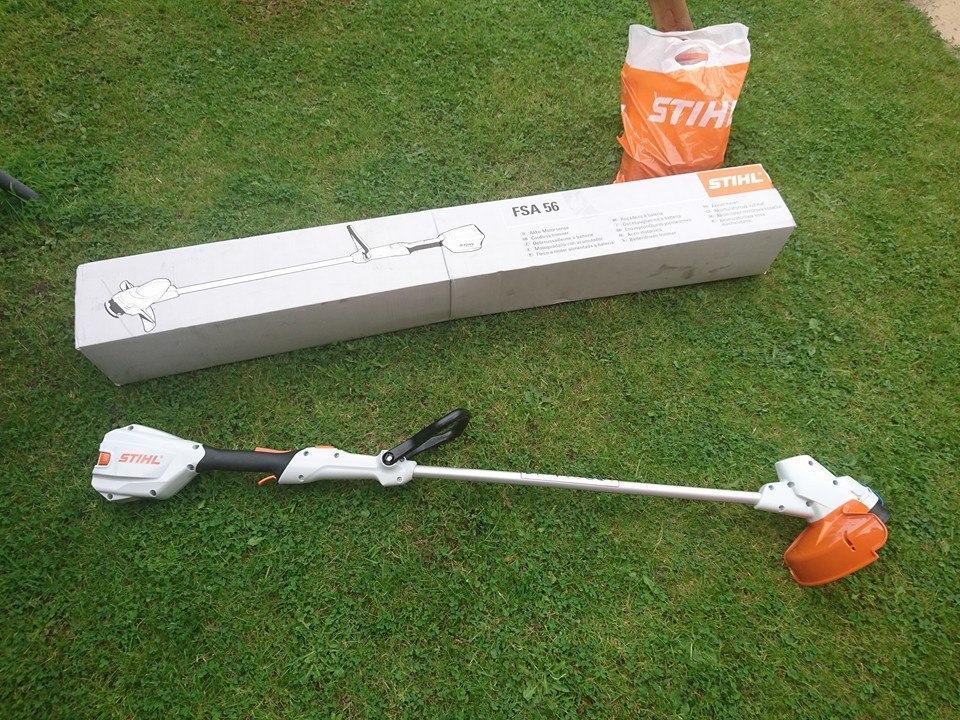 When we picked up our Stihl FSA 56 Grass Trimmer we were given a fully charged battery and a quick refresher on how it worked which really gave us the feeling that we were being looked after.  The ability to change the height on the FSA 56 Grass trimmer means that it is perfect no matter how tall you are and I didn't feel as though it was made for a taller man as I was able to use it just as easily as my husband.  The FSA 56  Grass Trimmer has an auto feed line which means that you don't need to mess around adding extra wires.
Getting started was really simple and it soon made short work of our over grown edges. The trigger and safety switch were really easy to use and the handgrip meant that the grass trimmer was easy to control and manoeuvre.  It wasn't long before the garden looked amazing again and it had hardly made a dent in the battery power.
We are now converts to the Stihl Power Tools brand and we are already looking at some of the other products. The range isn't cheap, with the FSA 56 Grass Trimmer having an RRP of £199, but the ease of use and the quality that you are getting will mean that this is a product that lasts and one that I would happily recommend.