Shimmer Stars by KD are cute plush toys that you can decorate with added sparkles thanks to the shimmer wand. You can also use the shimmer wand to add sparkles to your hair as well so you can both sparkle together.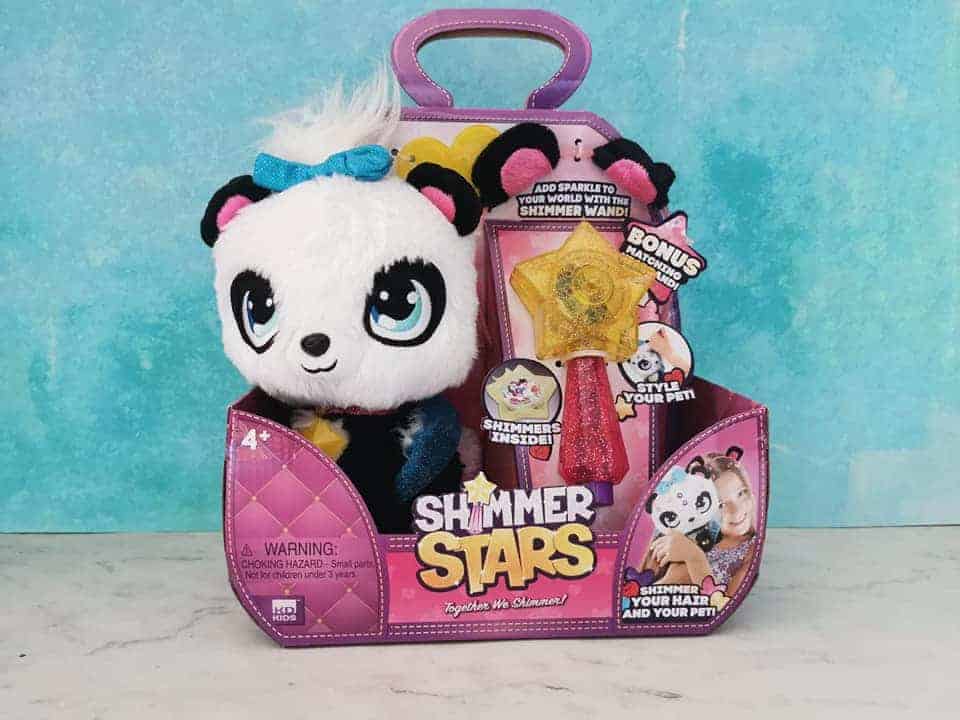 Shimmer stars are recommended for children aged 3 plus due to small parts but kids that young may need help to use the shimmer wand. Shimmer Stars are available in a range of characters including Jelly Bean the cat, Bubble the Puppy, Twinkle the Unicorn and Pixie the Panda.
Each Shimmer Stars comes with a shimmer wand filled with shimmer sequins, a comb to remove the sequins and a twining headband so you can look like your shimmer stars character. You can also use your Shimmer stars Tutu as a hair scrunchie, its hair bow can be used in your hair as well and its collar can be worn as a bracelet. I love the fact that the accessories are interchangeable between the Shimmer Stars and the children playing with it.
To use the Simmer wand you need to place a Shimmer sequin in the middle of the star and then push the wand through the centre. You then place this against your Shimmer Stars or your hair and press the button to release the sequin. The special zigzag cuts will hold the shimmer sequin in place until the hair is combed and the sequin released.
The comb removes the shimmer sequins really easily so you dont need to worry about these getting stuck in your hair.
The shimmer sequins are available in a range of colours and shapes and I was really impressed with how many are included with your Shimmer Stars toy, over 200 per Shimmer Stars.
The Shimmer Stars toys are really well made and the plush characters are super cute. You can find out more on the Shimmer Stars website http://shimmer-stars.com/uk/