I have been sent a huge selection of Frozen 2 products from Jakks Pacific ahead of the new film being released in cinemas this Friday and I am so excited. We loved the original film and although both of my girls are older, we are still all very excited for the second film which sees our favourite sisters go on an adventure to the enchanted forest in search of answers.
The three products we were sent are the Playdate feature Sven, Purple Nightgown Elsa doll and Elsa's enchanted Ice Vanity. Below I will take a look at each of these products and let you know my thoughts.
Are 'Reindeers better than people?' Well, I certainly think so especially the Frozen 2 Playdate Sven by Jakks Pacific. Now I am not going to lie, Playdate Sven is huge so you will need a fair amount of space for him but he is super cute and even Elizabeth (who is 11) is able to sit on him.
In fact, although I wasn't expecting either of my girls to be interested in Playdate Sven, given their ages they both absolutely love him. Playdate Sven has over 20 sounds, stands over 3 feet tall from floor to the top of his antler and can support kids up to 70 lbs on his back. He takes 2 AA batteries which are included and comes with a plastic carrot that you can feed to him. 
Playdate Sven has a super fluffy mane that is great for cuddles. He makes reindeer noises as well as has phrases in Kristoff's "Sven" voice making him a fun companion for imagination play. Playdate Sven is expensive but he is also very impressive and would make a young Frozen fan very happy.
Jakks Pacific are well known for the quality of their Disney dolls and the Into the Unknown Elsa doll is no exception. She is wearing a beautiful purple dress and has gorgeous eyes that really do make her stand out.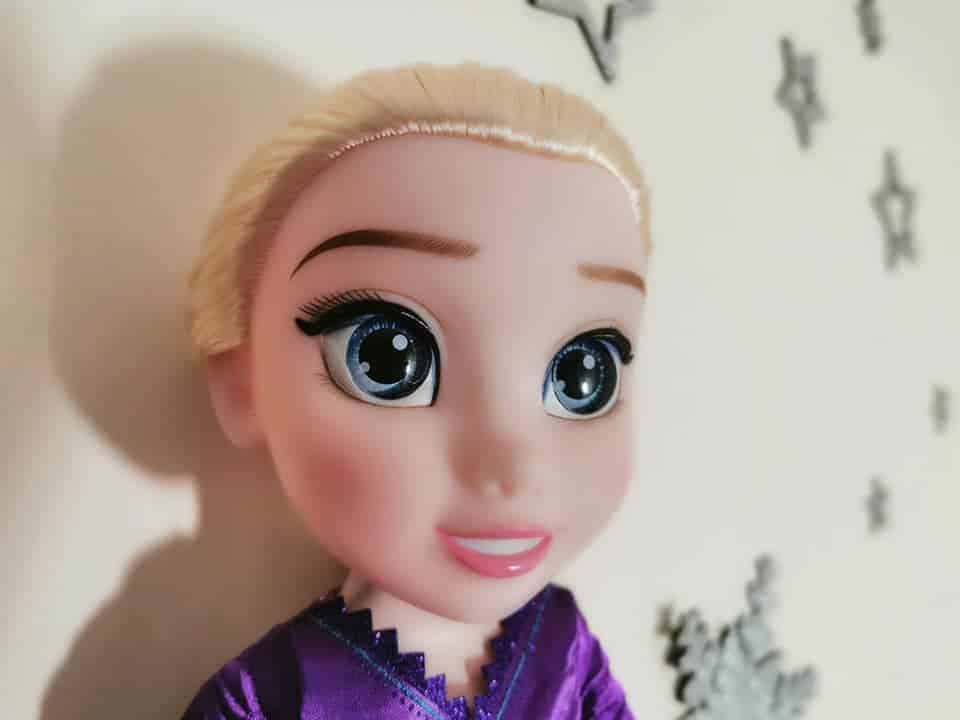 She speaks 14 phrases as well as sings the Frozen 2 "Into the Unknown" song. Press the diamond on her chest to activate the sounds and see the lights sparkle in her dress. Suitable for 3 years plus she takes 3 x AAA batteries which are included. I love her purple nightgown!
The Elsa's Enchanted Ice Vanity is suitable for ages 3 plus and was easy to clip together. It did need 3 AA batteries which were not included. The vanity comes with a brush, comb, headband, 2 snow clips and 2 snowflake grips. It also has a drawer which you can use to keep them safe, although the headband doesn't fit in the drawer.
The main feature of Elsa's enchanted ice vanity is that it has light-up images in the mirror and that it plays two instrumental songs. One of the songs plays as you open the doors which is also when you can see the image of Arendelle. This is a song from the first film. The second song plays when you press the button on the top right. This is accompanied by round images from the new film. There are three images in total showing the sisters as children, then together as adults and finally Elsa alone on the top image.
I was really impressed with the quality of the mirror and the images that appear in the mirror although I was a little confused by the storage spaces in the top of the vanity that seems to have no purpose. If you work out what they are for let me know.
Check out this video below to see the products in action