It is that time of year when I start to think about what I need for Christmas and I am sure you are already thinking ahead to the festive season. Instead of looking at what presents I could give, this year I am focusing on what we need to survive Christmas as a family.
For a good night's sleep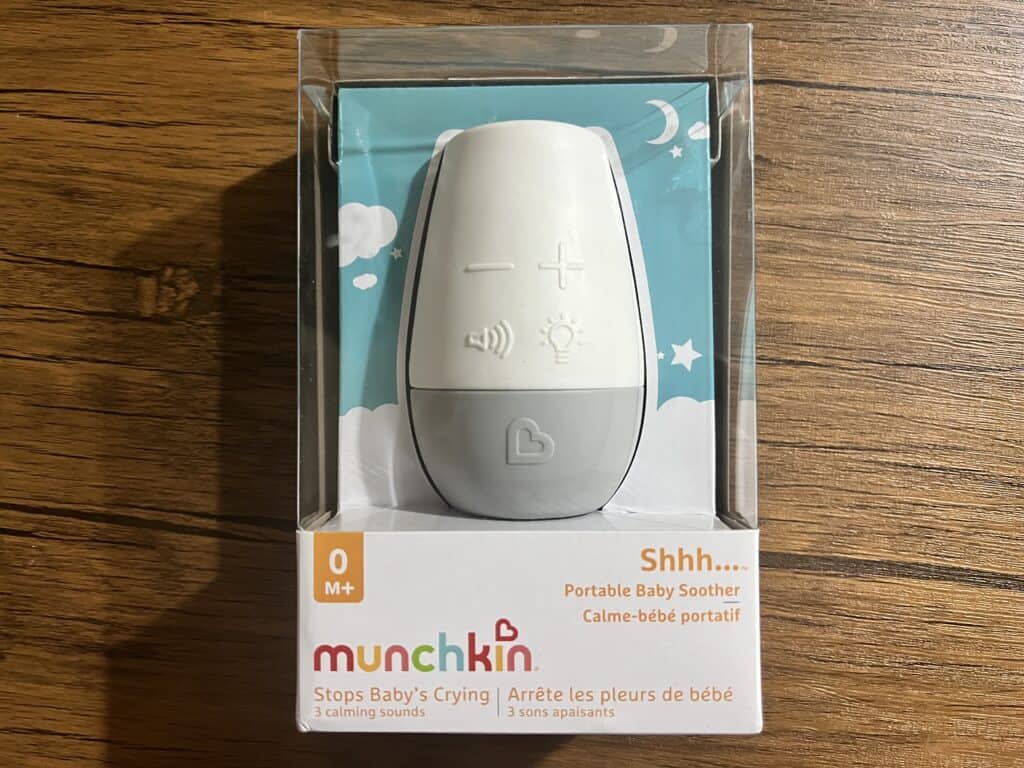 Munchkin's The Shhh… portable baby soother is a fantastic gift for a new baby or a new mother or even someone like me who needs white noise to fall asleep. With three calming sounds this portable baby soother helps to stop a baby crying by providing either a heartbeat, a shushing noise or white noise. The three sounds are used to first calm down a baby (shushing noise), then lull them into a calm state (heartbeat noise), and eventually keep them asleep (white noise). The Shhh… Portable baby soother takes 2 AA batteries and as well as the noises it also has a night light feature which can glow solid or pulse in time with the sounds. There are lots of other fantastic gifts available on the nursery page of the Munchkin website.
This is my new favourite item. As it is fully portable it is great for when I am not at home and I dont have my Alexa for white noise. The timer turns it off after I have fallen asleep so it isn't wasting the battery and it is small enough that I can pack it easily for a few nights away.
Keeping the kids busy and out from under your feet
When it comes to Christmas time there is a lot going on. Finding ways to keep young children busy during this stressful time takes some planning. The Eat Sleep Doodle colour-in festive stocking comes with 10 wash-out fabric pens that can be used to colour in the fabric stocking ready to hang up for Christmas. When the kids want to play on their tablet, watch their favourite show, or if you just need a bit of piece and quiet, then the Planet Buddies wireless headphones can be the answer. Planet Buddies volume limited headphones come in really cute colours and designs and packaged in eco friendly packaging printed with soy ink.
Family time
Playing a game together as a family is part of our Christmas tradition and Pear Shaped by Camden Games is perfect for us. A bit like Uno but with a fun twist Pear Shaped is fast, competitive and lots of fun. Finding a game that the teenagers enjoy as much as the adults can be tricky but Pear Shaped is ideal and small enough that you can take it away with you.
Keeping the teenagers happy
We all know that teenagers need their own space, and wifi, they definitely need wifi. If they can't escape into their own room then allowing them to escape into their own version of reality is the next best thing. The TCL306 android smart phone is an ideal first smart phone that will allow them to chat with friends, catch up with their favourite youtubers or even play some games. Paired with a set of Urbanista Seoul mobile gaming earphones, the teenagers will be able to hear everything that is happening on the screen no matter what the rest of the family are doing around them
The Clickr stand and grip supports come in lots of different designs and allow your phone to be stood up in a variety of ways. Now available as a magsafe stand for those with an iPhone these are great accessories that make watching things on your phone so much easier. My teenagers love doodling so we always take a notebook with us. These personalised notebooks from Billy Gift are available in a variety of designs and styles with both hard and soft backed covers.
Treat yourself
After looking after everyone else don't forget to take time out to look after yourself. Enjoy a nice bottle of pink prosecco from independent wines and book yourself a spa day with buyagift. In fact, order yourself a case of wine and why not take a look at some of the other amazing experiences that you can book including afternoon tea, a meal out or even an escape room.