Every time we have visited Orlando I have been intrigued by the large upside-down house on International Drive so when we visited in December I made sure that we had time to visit. Wonderworks is an interactive exhibit with lots of fantastic zones to explore and fun activities like laser tag, 4D XD motion theatre and indoor ropes course.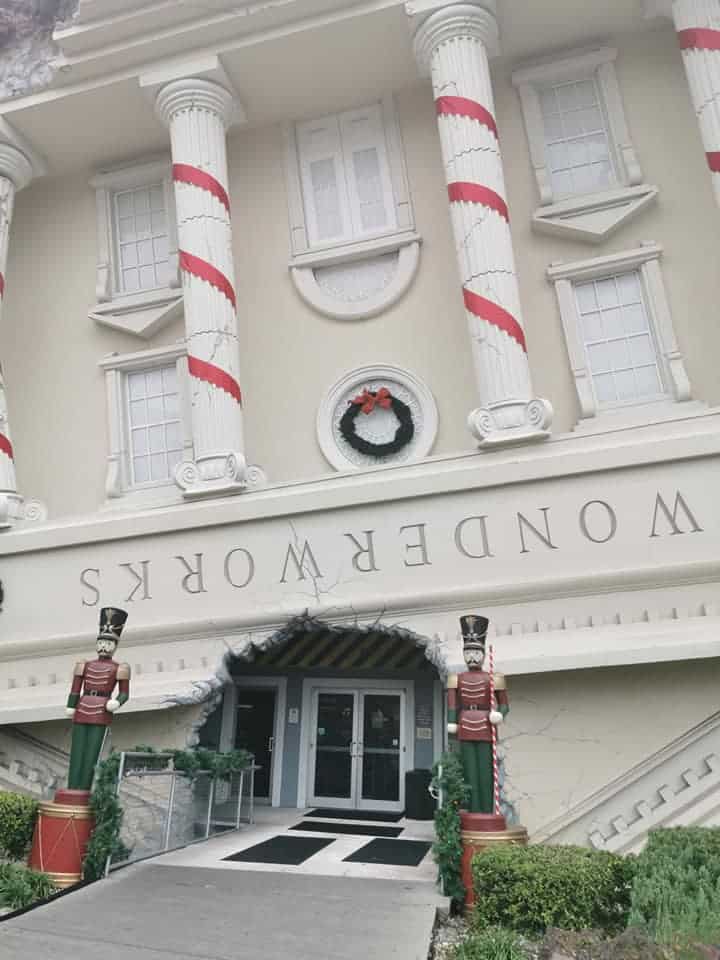 Wonderworks is great fun for the whole family with a variety of activities that are suitable for all ages. We had great fun testing out the storm simulators in the extreme weather zone in the earthquake cafe and the hurricane shack. We also got to learn about Tesla coils and extreme cold.
We all loved the physical challenge area with the bed of nails a firm favourite. Alison loved the pulley power and both girls enjoyed the wonder wall which is a large pin wall which allows you to make 3D impressions of your body.
The best bit in there had to be the bubble lab where we spent a long time playing with the various bubble experiments. The girls loved trying to put each other inside the bubbles with various degrees of success which involves lots of giggles.
We then had fun in the virtual sports area testing our skills before heading to the light and sounds area. I am sure my husband had more fun on the giant piano than the kids.
The space zone was really informative with lots of great photo opportunities as well as some really interesting rides. The wonder coaster allows you to design your own rollercoaster and then ride it in the virtual simulator or have a go on the astronaut training centre 2 person gyroscope.
After all of these fun zones, we headed through to where the ropes course is. Sadly I was wearing sandals so I was unable to have a go but the kids and my husband had a great time on this and the laser tag game that followed.
We had an amazing day at Wonderworks. It was a fun, active and educational day and the only thing that would have made it better would have been if we had been able to go to the Outta Control Magic Comedy dinner show.