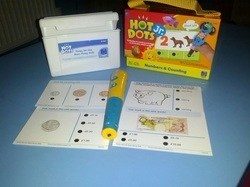 When I saw that Blogmatch were looking for reviewers for Hot Dots I jumped at the chance. With Elizabeth still unable to go to school I am looking at ways to educate her from home.
Being an accountant I have always taught my girls numbers so the Hot Dots Jr numbers & counting set of cards were slightly to young for them with only the written word cards being any form of a challenge. A quick call to Learning Resources and they sent us a much more challenging set. We received the Basic Money set one and it is perfect. Elizabeth loves money at the moment so this is both fascinating and educational which makes it a thumbs up from Elizabeth and me.
The Hot Dots pens are fabulous, really simple but effective. The light turns red if wrong and green if right. You can also choose to have the sound effects on too which congratulate or encourage the child to keep trying. They come in some brilliant designs and Alison would like the cat design from the Jr range.
I did find one issue where I managed to get a false positive from one of the cards but I tried them all after that and it was just the one card so I think it was just a dodgy card.
I love the Learning Resources website and I could quite happily spend a fortune on the various items that I could use to home school Elizabeth. I better get saving and with Elizabeth having a better grasp of money thanks to the Hot Dots cards maybe she can help me.
Learning Resources have a competition on their facebook page at the moment to win one of five sets of Hot Dots Jr cards and an original hot Dots pen.
---