Sometimes you get offered the chance to review something you just can't say no to and that was how I felt with Carat London got in contact with me to see if I would like to review one of their tennis bracelets. After taking a look at their tennis bracelet for women section on the website I fell in love with the simple yet elegant designs but would the actual product really live up to my expectations? I chose to receive the 18cm Hailey Round Prong Sterling Silver tennis bracelet (also available in gold vermeil and 16cm).
The packaging
When the bracelet arrived I was really impressed with the quality of the packaging. The box is very classy and the branded ribbon really adds to the design. Inside the box, the bracelet is strategically displayed and held in place so that the beauty of the stones is obvious to see.
The gems
The Hailey Round Prong tennis bracelet features 9.5 ct eq of round cut stones described on the site as CARAT stones. These stones look and sparkle like diamonds and there is a reason for that. CARAT stones are high-quality hand and machine-cut Cubic Zirconia crystals. Cut in a round brilliant design, it has 58 facets that refract and reflect the light, giving it the sparkle you can see in the image above.
The clasp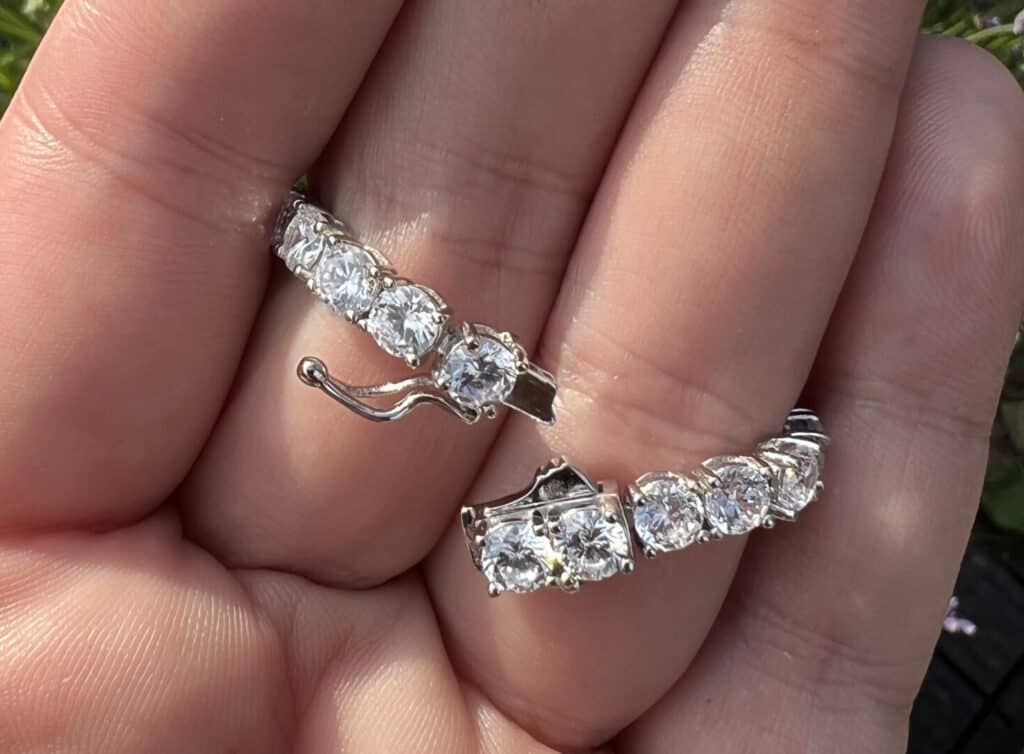 One of the reasons I don't wear a lot of nice jewellery is because I would always be worried about losing it. Therefore I was really interested in the clasp that held this tennis bracelet together. As well as a sturdy clip with a button release there is also a stud with a loop on the side as an added safety catch.
Why you will love this tennis bracelet
This Hailey Round Prong tennis bracelet looks simple and yet it is stunning in its simplicity. The sparkling stones caught in their silver settings look elegant on the wrist and sparkle as you move. The robustness of the catch means that you don't need to be afraid of losing it making it an ideal bracelet for everyday wear. This is one gift that the recipient will love and cherish and wear for years to come.