Alison is a huge fan of the Marvel superheroes and she also loves Nerf blasters so when she saw the advert for the Marvel Captain America Civil War products she was desperate to have a go. Luckily she didn't have to wait long before I was sent them to test.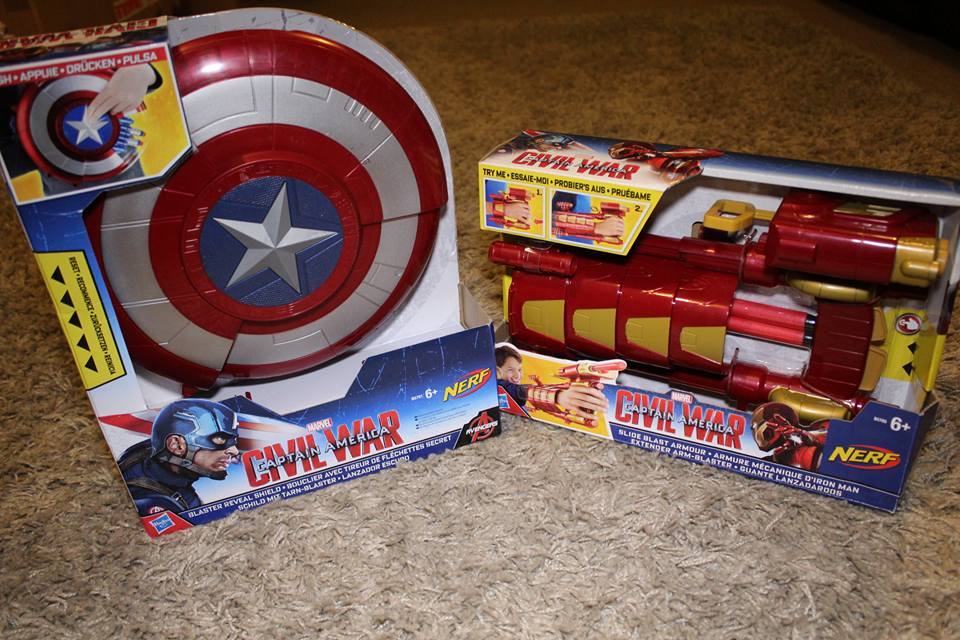 The Marvel Captain America Civil War Nerf blasters come in two different styles depending on whos side you want to be on. You can get the Captain America Blaster reveal shield or Iron Mans Slide blast armour.
The Captain America Civil War Blaster Reveal Shield has some great features and was easy to get started. You did need to clip the hand grip in place (note – if it doesn't fire it could be that you have not pushed this on tight enough).
The shield has a button on the top that opens the shield up and reveals the nerf shooter. To close the shield you slide the lever on the back and it clips into place.
It is really simple to load and shoot the Captain America Civil War Blaster reveal shield. You load the two nerf darts into the front of the blaster and pull back the handle. Press the button on the hand grip and the first dart will fire, pull back the handle again to prepare the second dart ready to fire.
The Marvel Iron Man slide blast armour came all in one piece and I think is my favourite out of the two.
The Iron Man Slide blast armour has two buttons on the hand grip. The biggest button controls the Slide blast armour. By pressing this the armour is released and opens up along your arm.
We really enjoyed testing out the Marvel Captain America Civil War Nerf Blasters and think they make a great alternative to some of the other blasters available.