We love spending time together as a family and enjoy finding new and exciting activities to keep us occupied. I had heard about Treetop adventure Golf at the Printworks in Manchester from a friend so when we were invited along to test it out as a family we snapped up the opportunity.
Easily accessible, Treetop adventure golf is right in the city centre and has a separate entrance to the rest of the Printworks. The whole venue is themed from the moment you walk through the doors so you get a really immersive experience.
There are two eighteen hole adventure golf courses to choose from – Tropical Trail or Ancient Explorer. The courses look amazing and there are a variety of obstacles to overcome.
The Ancient Explorer course sees you travel through the temple, across water obstacles and through tunnels to take on the ancient spirits.
The Tropical trail course sees you wander through the jungle to meet a variety of different animals and encounter different obstacles. This course seemed to be a bit easier than the other one so if you have younger kids then this might be the course for you.
One game of golf (18 holes) costs £9.50 per person (over 5) or £31.50 for a family of four. However if you want to play both holes it is £15 per person or £48.00 for a family of four.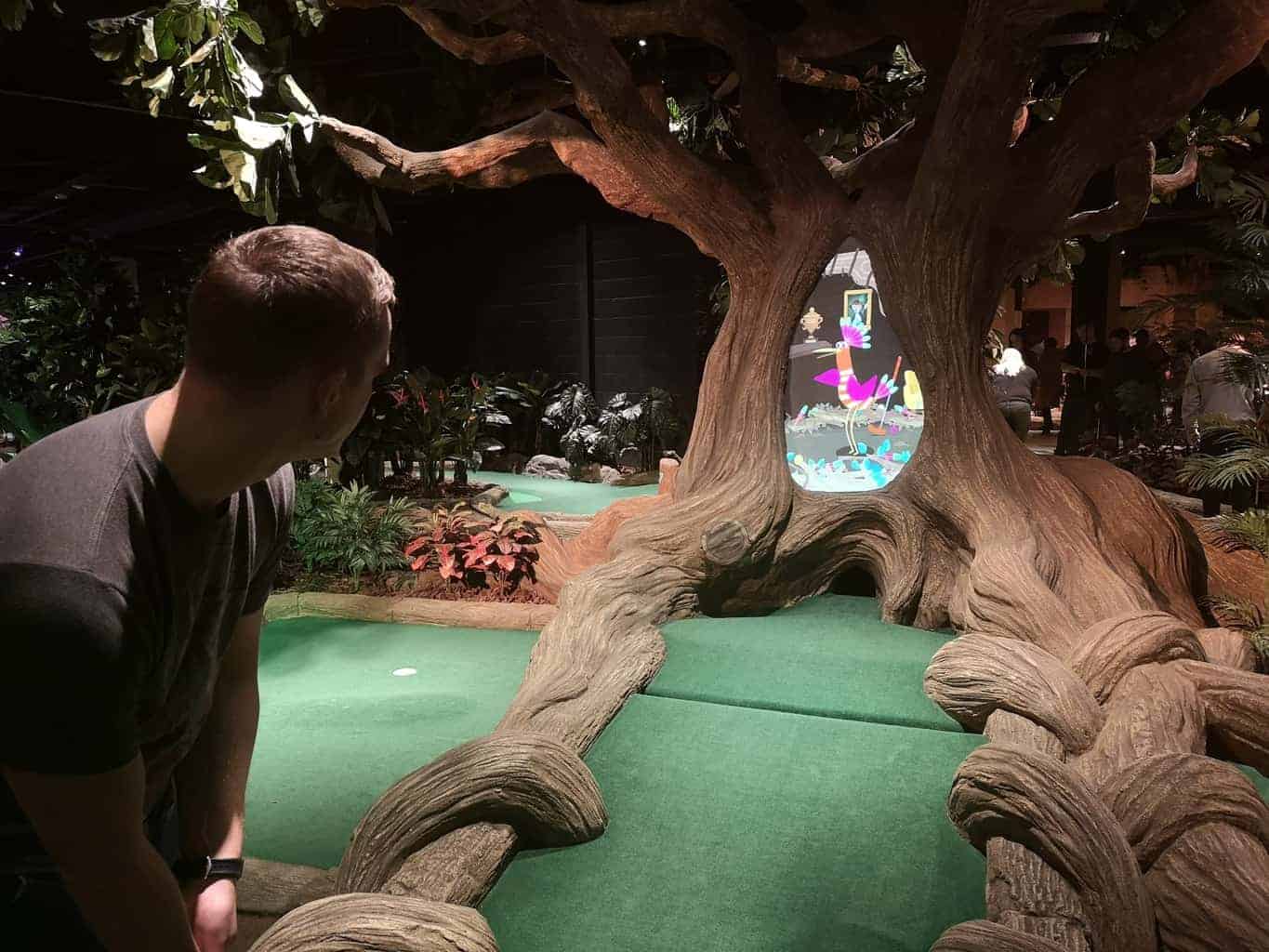 I think for the amount of time you can spend playing and the quality of the holes this is really good value. There are also other offer such as tee off before midday and play two courses for the price of one.
You also have the opportunity for a free game of golf if you manage to get a hole in one on the nineteenth hole, which Alison managed to do!
Treetop adventure Golf also incorporates a bar and cafe which serves pizza, cocktails, hot & cold drinks and even cake. Which means you could even stop for a bite to eat between courses.
We had a really good time exploring Treetop Adventure Golf and it is somewhere we would definitely recommend to families who are looking for a bit of fun away from the Manchester weather.