Sometimes I get invited to go somewhere and unfortunately we can't make it. When this happens I try to find someone else who can go in our place and report back to me. This year we will be sending the Kerr Family to Nozstock which takes place on 21st and 23rd July in Herefordshire. They paid to attend last year and I have to say that Mummy Kerr was raving about it when she came back so it seemed like the ideal fit. Below Mummy Kerr tells us all about their adventures last year..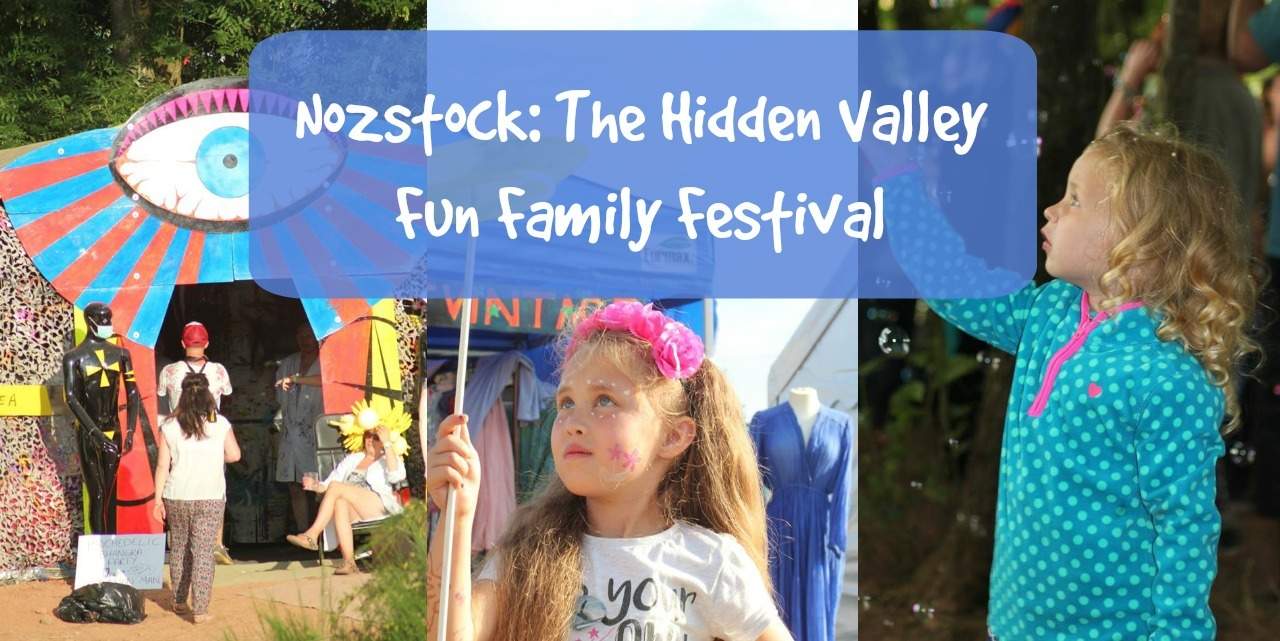 "Festivals have always been a huge part of our summer, pre-children we would spend most of July and August travelling around visiting different parts of the UK for weekends of music and fun with friends. Once we had children it seemed a little daunting so after a not too marvellous, rain-sodden
experience, we decided to skip the UK festivals for a while and try out the European scene. In 2016 though we decided to give the UK another chance, surely there must be a little hidden gem of a festival somewhere suitable for the kids and adults alike. We definitely found it in Nozstock!
Nozstock: The Hidden Valley festival is set in Bromyard, Herefordshire. From arriving at the site the atmosphere was amazing, luckily the sun had decided to shine upon us and we couldn't have asked for better weather all weekend. We parked the car and began lugging our bags to the campsite, family camping was in the furthest field from the main festival but even so was only a ten-minute stroll which was great with two little ones with tired legs. There was plenty of space to pitch our gigantic tent, we never felt hemmed in or crushed all weekend. There were communal fire pits in the camping area too which were great to sit around on an evening.

We were never short of things to do, Nozstock had 9 stages offering everything from music to
theatre and poetry to comedy. The children's tent was packed with activities all weekend and the girls came home with lot's of things they made over the weekend including tie dye t-shirts, clay pots,
masks and more. The facilities on site were great with plenty of toilet blocks dotted around the camp and main site and they always seemed to be quite clean as far as festival toilets go. There was a brilliant selection of food and drink available, the wood fired pizzas were delicious! We never struggled to find something for all of us which with two fussy eaters can sometimes be a problem, the food stalls opened quite early in the morning so it was possible to get that all important coffee if you were up first thing with your little ones.
Nozstock started off as a small gathering of 50 family and friends of 'Noz', an ex-dairy farmer who had a great group of friends who could play a tune or tell a joke. Year on year it grew until they realised it was now a festival and they began making plans to turn it into a 'real' festival. It's still relatively small in festival terms with around 5000 visitors but that all adds to the charm. Nozstock has an amazing laid back, party atmosphere and still manages to retain the feeling of being a gathering of friends. Our 2016 visit was one of the highlights of our summer, and with an amazing line-up of acts being announced for 2017, it promises to be even better. Seasick Steve is at the top of my must see list! The Happy Mondays are playing for the 24-hour party people along with Reggae music from General Levy and Mungo's Hi Fi. If electro's more your thing then The Correspondents and Land of The Giants are playing with dozens of acts to be announced over the coming weeks."