Mijas is a municipality that is part of Malaga province in Spain and can be found on the southeastern coast. Despite its obvious progress, it is still known for having old-school Spanish vibes, apart from its picturesque landscapes. We spent a week just outside of Mijas last summer and absolutely loved it.
This town generally has gentle weather, with the temperature dropping as you elevate in the mountains. Precipitation is usually expected to increase around winter, and despite a slim chance of snow, ice may still form. Because of these, it makes an ideal tourist spot for those raring to experience it all in one place. Explore this beautiful place by trying out the recommendations below.
Explore La Cala de Mijas
La Cala de Mijas was a former tiny fishing village of 10,000 residents. Now, it's brimming with cafes, shops, and bars along its beach and a lot of markets selling fruits and other items. It also boasts of a coastal boardwalk, which is popular among tourists.
If you want to enjoy some festivities, you can visit the place as the celebration kicks off on July 25, where the locals hold a week-long celebration through music and dancing. There will also be a showcase of local delicacies. Also, from July to August, its promenade turns into a ground for the Noches de Luna y Playa. There will be lots of flamenco dancing and musical performances, especially in the classical genre.
Enjoy the Museums
Mijas is home to a lot of art museums. Two of the most popular are the Museo de Minaturas housed in Carromato de Max or Max's Caravan and the Centro de Arte Contemporáneo or The Contemporary Art Centre.
The Museo de Minaturas is situated at the heart of Mijas Pueblo. This miniature museum includes the Last Supper by Leonardo da Vinci painted on a rice grain as well as a Jivaro shrunken head. There are around 360 other exhibits that visitors can find interesting.
The CAC Mijas is positioned in the centre of the historic part of Mijas Malaga. It showcases around 550 artworks, including art done by Dali, Picasso, Tsugouharu Foujita, Georges Braque, among other notable artists.
This museum has the most extensive ceramics collection by Pablo Picasso in the world. You can also find a lot of local artworks here.
Choose the Best Restaurants in Town
Mijas is also home to some of the best restaurants in Spain. You can choose based on convenience, location, views, and speciality, among others.
If you want a comprehensive guide to these fine dining locations, please check this link: https://propertyinmijas.com/our-mijas-spanish-restaurant-guide/.
Be in Awe of the Underwater Scene
If you want to see some marine life in action, this adventure is perfect for you. There's a company providing scuba diving services there that offers courses regardless if you are a newbie or already an expert. It even provides services divers with disabilities.
Then, there's the Sea Life Centre located at Benalmadena port. It is an aquarium and underwater park where you can stroll along the seabed and enjoy marine displays that came from different oceans of the world. You may also be able to touch starfish, sea cucumbers, and the likes in a pool.
Try Extreme Transport Modes
Take your adventure to the next level by trying out Mijas' cable cars and be in awe of the view that includes as far as the coast of Gibraltar. Bring your fear of heights to a test with this Benalmadena Cable Cars or Teleférico Benalmádena, which can take you to the highest point in Malaga.
But if you just want a low-key adventure but just as satisfying, you can go for a donkey carriage, which is one of Mijas' pride. Explore the village by hiring it with a coach to tour you around.
Savour the View in El Compas
Considered one of the highest points in Mijas, El Compas is one of the must-sees when visiting the place. Get a spectacular view of several towns and cities like Mijas Costa, Fuengirola, Marbella, and Torremolinos. You can even see Africa sometimes when the weather is clear.
Play Golf in a Paradise
Mijas is a golf course haven due to its scenic views that exhibits Mijas' lakes, trees, and slopes. The Los Lagos Course and the Los Olivos are some of the popular golf courses in Mijas and even in the whole of Spain.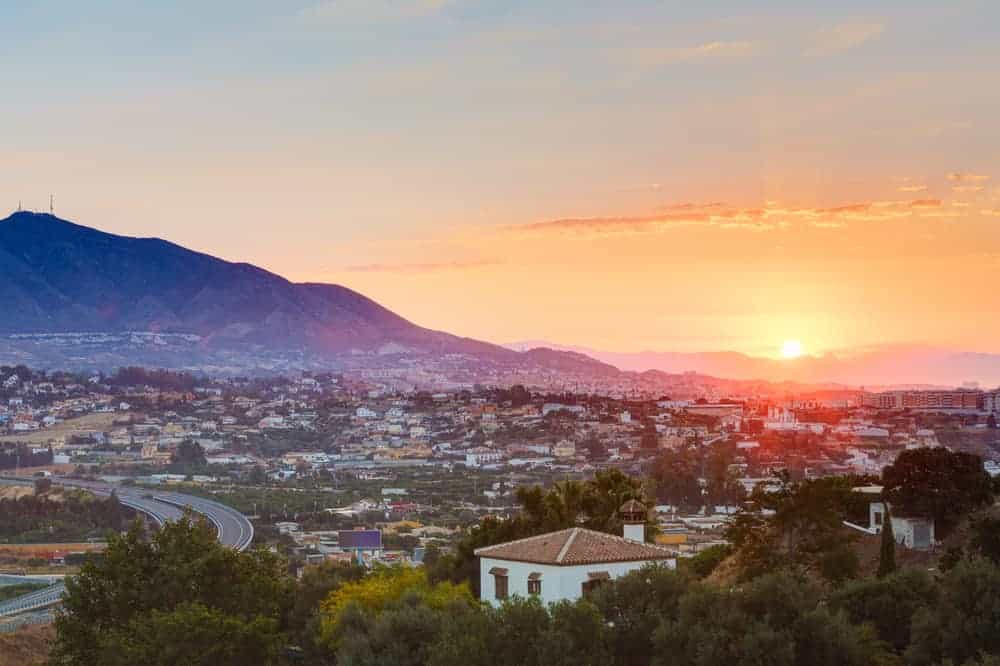 You Can Do Hiking For Free
One way to fully enjoy the marvellous views of the mountains and all other landscapes is to go hiking. What's good about this is that you can do it for free as the government of Mijas has made the place tourists-friendly by producing detailed hiking guides.
You can get these online or through the tourism office. Mijas Area Country Walk and Mijas Mountain Country Walk are some nature walks you can do around the area. Just be sure to wear proper gear, bring everything you need like food, water, and first aid kits, and be cautious at all times.
Hangout at Plaza Mayor
Cap the day of adventure by chilling out at Plaza Mayor, which is both a leisure park and a shopping centre. If you travel with kids, it's their turn to have a blast this time as it has an amusement centre and a cinema.
Its location is also very convenient when you are on your last itinerary as it is located near Malaga airport. It's the perfect icing on the cake, so to speak.
Parting Words
How do you envision a paradise? Would it be as peaceful as the forest, as gentle as the sea breeze, or as tranquil as the mountains? You don't have to choose one over the others as you can find all of these in Mijas.
So, the next time you plan your next overseas trip, consider Mijas. It's definitely one for the books – and postcards too!