Alison is always looking for new and exciting this to play with so when I saw Whacky Shots from Brainstorm I knew it was something that she might enjoy.
We were sent the Whacky Shots World Warriors Power Pack which is suitable for children aged 6 plus.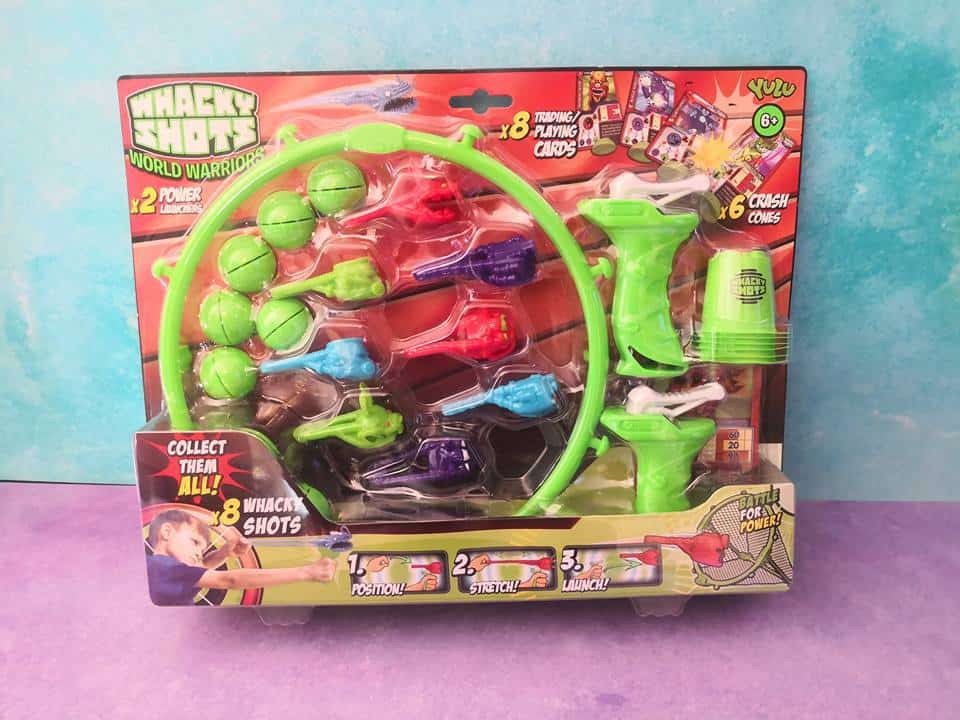 The Whacky Shots World Warriors Power Pack contained two power launchers, one target net, eight cards with bases, six crash cards and eight whacky shots.
The Whacky Shots each belong to different teams and to play you shoot down your opponent's cards. The element of the whacky shots and the card that was hit dictates who wins. Alison, however, was not interested in playing against anyone and instead set up the crash cones, cards and target net to practice her aim.
The net was a bit tricky to put together and I ended up pushing the green nobbly bits through the net material to keep it in place. I am pretty sute that this is not what you were supposed to do but there were no instructions and it works well.
To load the Whacky Shots you insert them on the power launcher and pull back hard on their tails. Aim and then release the tails to fire. It does take a bit of practice to become accurate and some of the different characters are easier to fire than others so pick your team carefully.
Whacky shots are lots of fun and come in different teams so that you can collect them all. There is even special glow in the dark Whacky Shots that you can collect. Whacky Shots are available in a variety of different packs such as the battle pack and starter pack as well as the individual blind bag packs which makes adding to your team a lot easier.
Which team would you like to collect?