The Lion Guard is a fabulous new TV series on Disney Junior which follows Kion, son of Simba, and his adventures around the Pride lands. Welcoming some old favourites as well as new characters the Lion Guard is a great follow up for all the Lion King fans out there.
We were sent a selection of the new Lion Guard toys that are available from Just Play.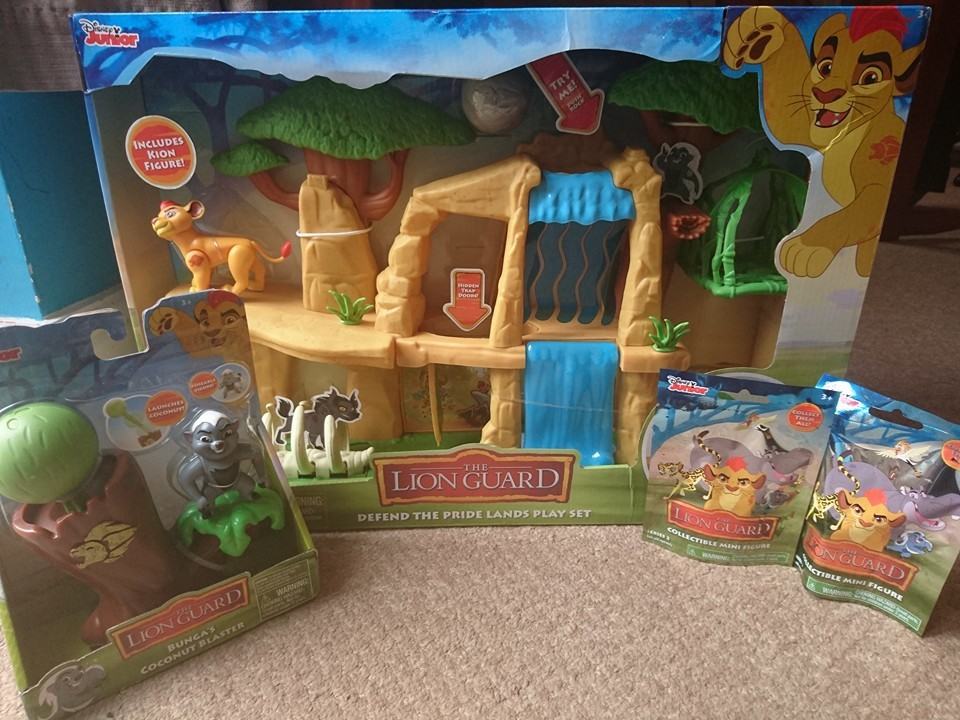 The biggest playset we were sent was the Defend the Pride lands play set. We were also sent two mini figures mystery bags and a figure with an accessory pack.
The defend the Pride lands playset comes with an exclusive Kion figure and has 6 interactive features to play with including a trap door, a lift, a secret hideout and more. It is great for kids who love pressing buttons and seeing what happens and really encourages imaginative play. The interactive areas on the playset ensure that the kids are never bored and each has their favourite. Elizabeth loves trapping Kion in the skeleton trap whereas Alison enjoys using the vine elevator. I think that the variety of interactive areas is fantastic and I really like the waterfall which has beads inside so it makes a rain type sound when it is flipped around.
The mini figure blind bags retail at £2.49 and include a well made plastic figure featuring one of the characters from the show. We were lucky to receive Zazu and Battle Kion but there are quite a few to collect including some special ones. So far they have released Series 1 and Series 2 but I am sure there will be more to come.

There are four different character and accessory packs to collect and we received Bunga's Coconut Blaster which comes with the character and a firing coconut projectile. The girls thought this was a great set and enjoyed shooting each other with it!

The toys are all really well made and in keeping with the series and will be perfect for any Lion Guard (or Lion King) fan.