I love cake, I love hot freshly made cake but I hate baking. I wish I loved baking so that I could eat fresh cake everyday but alas it is not to be. Lucky for me I can still get fresh cake without the mess of baking. I received three sachets of Pud in a Mug to put to the test and see what I thought.
I was sent three different Pud in a Mug flavours to try. The Banana & Choc Chip was the first one that we tried and I have to admit that we all managed to scoff the whole lot before I could take any photos. The Pud in a Mug are definitely not meant to be shared because three spoons attacking the steaming cake means it disappears quickly. The Banana & Choc Chip flavour is new to the range and judging by how quickly it disappeared then I can imagine it will be a popular flavour in this house.
Pud in a Mug are really easy to make. You add the milk and microwave for the timings as per the instructions. Do pay attention though as each mix may have different timings. The Pud in a mug microwave guidelines are for an 800W microwave and we only have a 700W microwave so I had to adjust the timings slightly. I added 15 extra seconds to the Banana & Choc Chip mix and 10 extra seconds to the rich chocolate and sticky toffee Pud in a Mug mixes.
Pud in a Mug are made by Dr Oetker who are well known for their quality cake ingredients and these did not disappoint. I have never had mug cake before so this was my first ever experience of cooking cake in the microwave.
I love the fact that both the Rich Chocolate and Sticky Toffee mixes leave a sauce in the bottom of the mug. The sauce is really lovely when scooped up with some of the soft squishy cake sponge. You can see the sauce pooling at the bottom of this mug. It was a really decadent treat at the bottom which really added to the overall enjoyment.
Alison loved the Rich chocolate Pud in a Mug and as it was so easy to make she could even make this herself.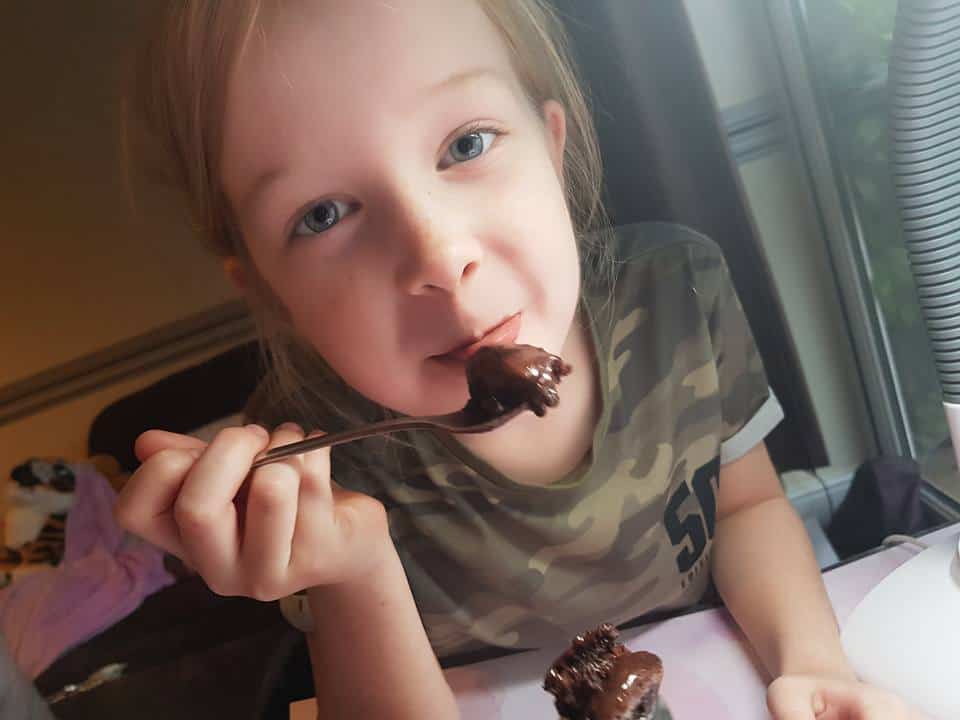 I am a sticky toffee pudding fan and usually I am disappointed by shop bought ones as they usually taste very fake. I wasn't expecting the Sticky Toffee Pud in a Mug to be any better but I was very wrong. The sponge was thick but airy and there was plenty of sauce in the bottom of the cup.
After the first mouthful I mixed the rest of the sponge into the sauce which made it even better (although not very photogenic!).
Yummy cake in less than two minutes in a decent sized portion for one person without you feeling too guilty for over indulging. Pud in a Mug is definitely a winner in our house. You can buy Pud in a Mug from Asda with a recommended retail price of 85p a sachet which I think is a bargain for freshly cooked cake.