Leapfrog
Read with me Violet or Read with me Scout has lots of features including 5 interactive spots that respond to your touch. You can pet their backs to answer questions; kiss their cheeks and hear them say you're their best friend; press their left paw (music paw) to hear songs; and press their right paw (Friendly paw) for more responses.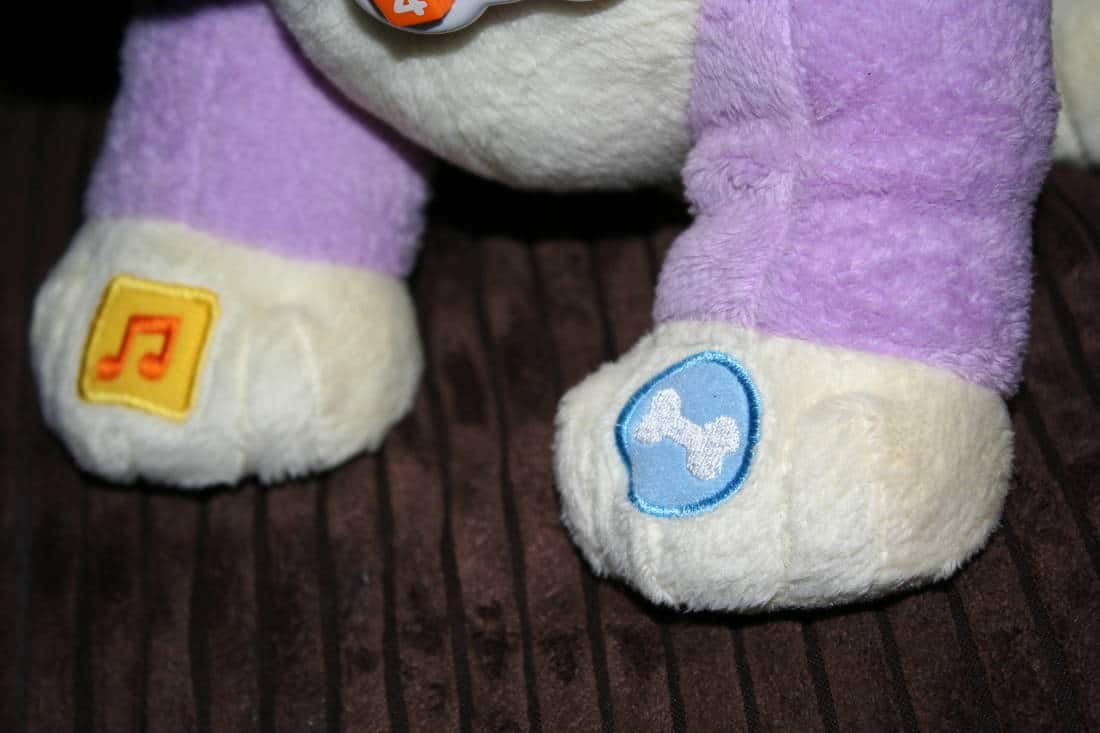 Violet and Scout come with 5 colourfully illustrated board books: Rhyming, Learn-about, Narrative, Pattern and
Concept
.As Violet or Scout completes each page, they will ask your child 1 of 70+ different engagement and comprehension questions over the course of the 5-book set.
As a home schooling parent I have done a lot of research and it seems that children which become actively involved in asking and answering questions or making predictions about a story rather than passively listening pick up reading a lot quicker. Read with me Violet and Scout helps incorporate that learning by asking questions that the children have to answer by pressing one of the 5 interactive spots.
Read with me Violet collar button


Read with me Violet has 5 number buttons on her collar which corresponds with the books. You press a number to get Violet to read a specific book.
Read with me Violet (and Scout) has two modes available on its collar next to the off
switch
.
sleepy mode – In Sleepy mode the back, head and cheek sensors are deactivated. If you press the Music Paw it plays lullabies for about 8 minutes. You can press the story number buttons, when a story is finished Violet  will go to sleep unless prompted for another story. You can press the friendly paw and Violet says short phrases including good night. 

story mode – reads stories then asks a question based on the book. The child answers by touching a corresponding sensor on violet. Violet will ask at the beginning of the story if you have the book with you, if you dont she wont ask questions that involve a visual prompt from the book.

As a parent you will be happy to know that not only does Read with me Violet have an off switch but it also has a Low/High volume switch.

Check out this video to see how Read with me Scout and Violet