Now we love Escape Room challenges in our family but sadly the girls are too young for most of them so finding a good Escape room game that we can play is a great alternative. We have tried a few and some are definitely better than others. This Escape Room – The Game from Goliath games is currently my favourite.
Not only does this game actually include a fantastic looking Chrono Decoder which you need to unlock it also has a countdown timer which gives you an audio countdown and lets you know when you can access a hint card.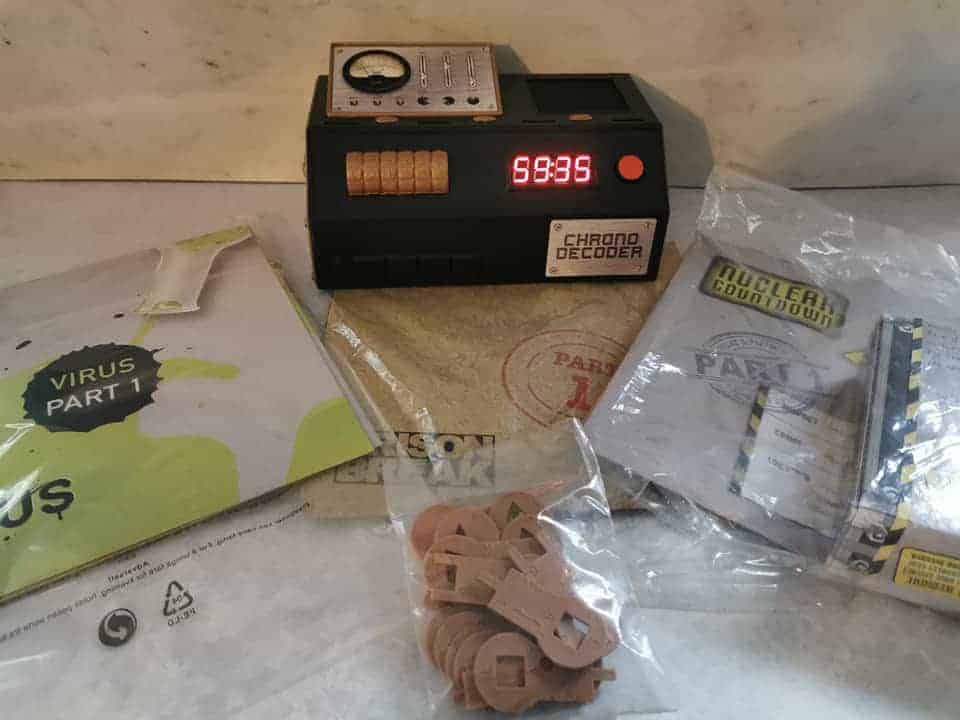 Escape Room – The Game has three different scenarios to escape from and each of the scenarios has 3 codes that you need to fine. Each code is made of 4 parts so in total you need to be able to solve 12 clues.
Each of the scenarios has different envelopes to open which contain what you need to solve the clues. You also get hint cards every 5 minutes. These do also include the solutions at necessary points in case you get stuck but you don't need to look at these as you need the red hint decoder.
The Chrono Decoder also has a variety of decoder systems on the sides which include Morse code, Polybius Square and Cipher discs.
The keys that you use to solve each clue have a variety of symbols on them and some of them are double-sided so you need to be careful how you insert them to solve the clues. They include a roman numeral, a dot, an arrow, a numerical digit, a shape, a letter, a zigzag edge and a shape at the bottom.
There is also an Escape Room The game app which provides background music and allows you to share a photo of your team on social media as well as a website which allows you to reprint some of the clues, explains the rules using a video and has lots of FAQs. If you struggle you can also find out how you should have solved the adventure and where you could find the clues.
So far we have only played the Prison Break scenario but I am loving this game and it was complex enough to baffle me in places yet it didn't require any previous knowledge so as long as you talk through the clues and you are really observant then you can solve each of the problems.