My girls love cuddly toys and feature plushes are loved even more. When I was at Toy Fair in January I spent a long time playing with all of the toys on the IMC stand and one of the toys that caught my eye was from the Club Petz Funny ranges. In fact, I loved Bim Bim the squirrel so much I wanted to take him home right then. Unfortunately, I wasn't allowed at the time but I am now the happy owner of both Bim Bim and Bam Bam. Bim Bim is a squirrel and Bam Bam is a hamster. Suitable from 18 months they are great for kids of all ages with my 8-year-old loving them as much as a 3-year-old.
Bim Bim and Bam Bam are both super cute with bright eyes and bushy tails (well Bim Bim does anyway).  Their soft fur is very strokable and they have a variety of textures making up the tales, hands and feet. They have a velcro on the bottom that opens up and contains a large plastic ball. The soft outer is partially stuffed with the head full of fluff that helps to give shape and cushion the ball.
The ball contains 4 AAA batteries which are included and when the button on the side is pressed the ball vibrates and makes noises causing Bim Bim and Bam Bam to jump, hop and bounce around like crazy. When switched on it lasts quite a while but you can turn it off by pressing the button again.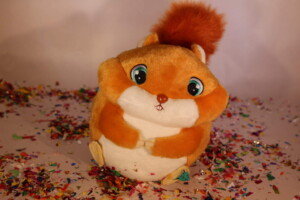 It is hard to explain exactly how mental they go unless you see it for yourself but they say their names, make noises like they are enjoying jumping around and vibrate. We tried them on different surfaces which made it even more interesting as slippery surfaces are even more crazy. As it is so hard to explain I thought I should just show you instead!