If your kids are anything like mine they love youtube but I am very aware that there is a lot of content on there that is unsuitable for them to watch which used to really worry me. Thankfully I have recently been introduced to the wonderful Youtube Kids app. 
The youtube kids app filters out inappropriate content (although it is not infallible as with any automated system) and helps to recommend other videos your children might enjoy. 
You can set the Youtube Kids app to preschool, school age or all kids age. This means that it will only recommend videos suitable for that age range. We set ours to School age kids and I was impressed with the selection available. As my kids love Dan TDM I left the search facility open so they could find his videos and after watching just one Dan TDM video some more appeared on the recommended home screen making it easier for them to find what to watch next. You can take the search facility off for even more security but your children will then be restricted to the recommended videos produced by the app.
The home screen menu can be sorted using the icons at the top which represent recommended, shows, music, learning and explore. There is a great selection available and stuff to keep the kids really happy. 
​The bottom right features a padlock which then brings up the below screen.
Now if your kids can read I would definitely recommending setting up your own passcode to make this more secure.
​You then enter the below menu.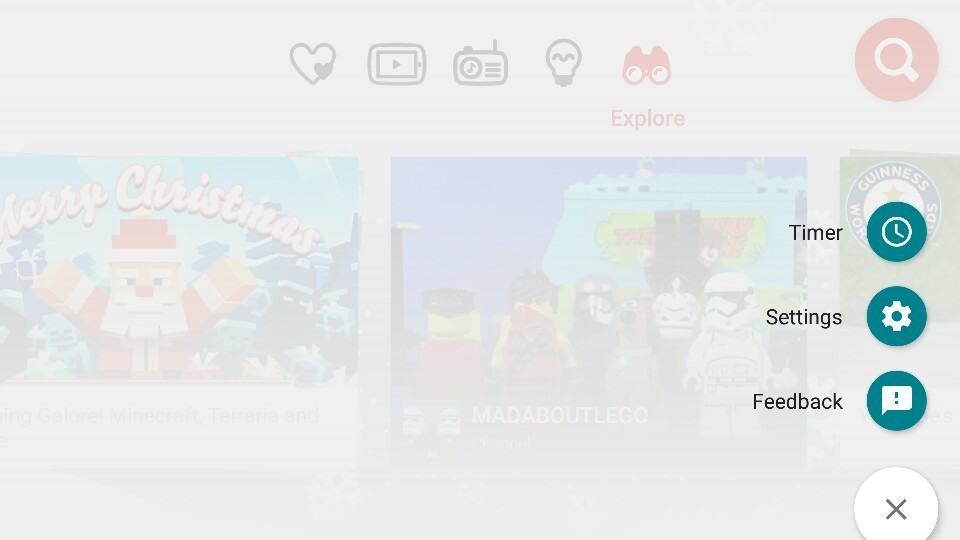 First up is the timer which allows you to restrict how long your kids can use the app before it stops working. Personally I just ignore this one but it is great that it is there for those parents who do want to use it.
Next is the Settings menu which is where you can control the background music, search facilities, age level and the ability to cast the homescreen on to big screens. You can also change text size and clear watch history.
The final icon is just to give your feedback on the app.
As you use the app if you find a video that is inappropriate for children of the age that you selected then you can click on the three dots at the top which allows you to report the video as inappropriate. This helps Youtube to improve the app for all users and the reported videos will be checked to see if they are suitable. 
The app is a logged out experience which removes the ability to upload, like, comment or share which helps to keep the kids safe.
We are absolutely loving this app and I now feel a lot more confident that my girls are only watching videos that are appropriate to their age and that I can check their history to see exactly what they have been watching.