I am a big fan of My Little Pony and I have been for years, in fact since I was a child myself. When my girls were younger we used to watch it on POP! all of the time and it was fun to see the different adventures that the My Little Pony characters would get up to. Now with the My Little Pony Movie just been released in cinemas it has brought about a new love of My Little Pony so we were happy to be selected to receive some new My Little Pony The Movie books from Egmont Publishing.
We were sent four different books which included a storybook, a search and find book, a sticker colouring book and a sticker activity book. I wasn't sure if Alison would be interested as she is more of a tom boy but even she can relate to some of the My Little Pony characters, especially Rainbow Dash.
The book we loved the most from Egmont Publishing is the 1000 sticker activity book which had lots of fabulous stickers in as well as wordsearches, mazes, colouring in and lots more fun activities. We love packing activity books when we go away and Alison really enjoyed this one.
The Giant Sticker story book features a shorter version of the story that is told in the movie. It comes with 6 large character stickers which you can place on the pages or colour in the white part of the pages instead. This is a great way to get kids reading who have a short attention span.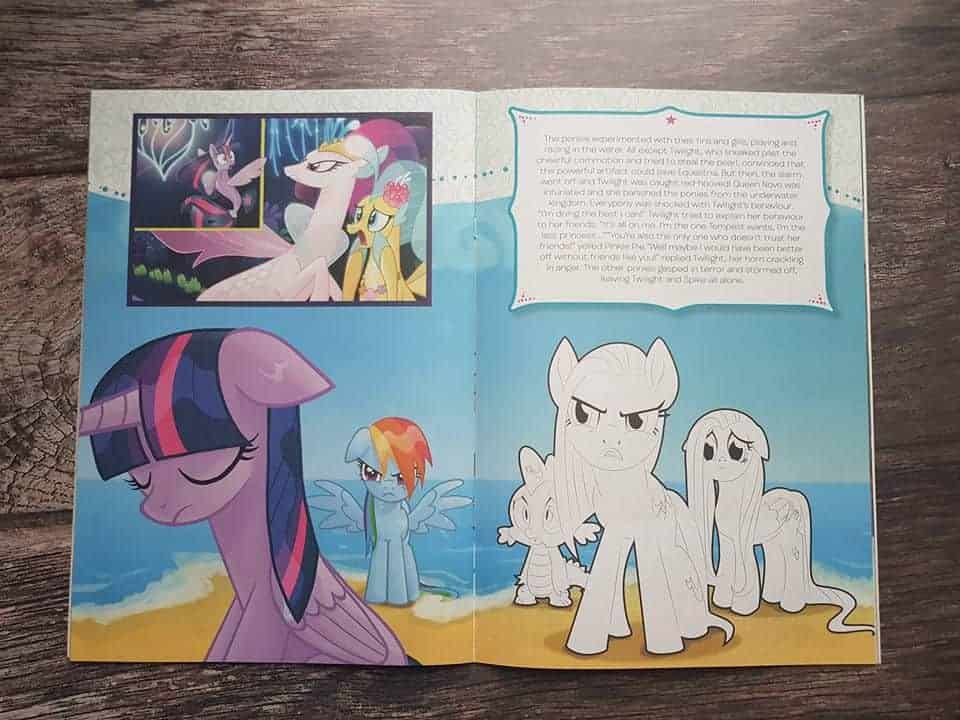 The My Little Pony The Movie Search and Find book takes story telling to the next level with the introduction of questions on each page asking you to find different objects and count some of them. This is a great book to read together as there are a lot of words. Spending time on each page finding objects together really helps children to look carefully as the scene in front of them and absorb more about the story. At the end of the book there are additional questions about what happened in the story which can help you see how much of the story the child was able to understand. The Search and Find book from Egmont Publishing comes with an exclusive edition plastic Tempest Pony toy with a glittery pink mane and tail.
The last of the four books from Egmont Publishing is the My Little Pony The Movie Hardback storybook. This book tells the story set out in the movie with large bright pictures and just a few paragraphs of text per page. The story flows easily and it has really made us intrigued to watch the movie so we can see it come to life on the big screen.
Now one of my readers gets the chance to win all four of the My Little Pont The Movie books by Egmont Publishing.
What you can win
· My Little Pony Movie: Search and Find with Toy: http://amzn.to/2wXxZzc
· My Little Pony Movie Storybook: http://amzn.to/2y1UKCh
· My Little Pony Movie: 1000 Sticker Activity Book: http://amzn.to/2vQZXLB
· My Little Pony Movie: Giant Sticker Storybook: with colouring: http://amzn.to/2ximioU
To enter to win these four books just fill in the rafflecopter form below 
Terms and Conditions:
The prize is a set of four My Little Pony books from Egmont Publishing as per the post.
Prizedraw ends at Midnight on 29th October 2017 GMT.
The prize is non-refundable and no cash alternative will be offered.
The prize is non-transferable. Uk entries only. Entrants must be 18 years or over. Incomplete or Duplicate entries will be deleted. All times are in GMT. Blog Owner not responsible for non-delivery of prize. Entrants must leave a means of contact: either twitter handle or email address. The prize is the item featured. The winner will be chosen at random from all valid entries. The winner will be informed within 14 days of the closing date and will need to respond with a postal address within 28 days or a new winner will be chosen. The winner's name will be available on request. The prize will be sent within 28 days of receiving the winner's address. This is a joint promotion between Tired Mummy of Two and Egmont Publishing UK. Entry to this confirms that participants have read, understood and agree to be bound by these terms and conditions