Is it wrong that I am counting down the days before my little darlings go back to school? Don't get me wrong I love them to bits but having them at home is not conducive to working from home. In fact, I am currently sat in a kids play area writing this whilst they burn off some excess energy.
So with back to school creeping up on us all I wanted to share some of the great items that I have been sent to make the transition as easy as possible. Now this post isn't about the uniform or the school shoes because I am always super organised and I actually bought all of those before the kids broke up. This post is about healthy treats for the packed lunch bags and fun stationery to put in their pencil cases and other small items that make Back to School easier.
Healthy Lunchbox ideas
If your kid's school is anything like mine the list of things the kids can't have in their lunchboxes is a lot longer than the list of things they can. With this in mind, it is difficult to find delicious (and nutritious) snacks to include. Check out the options below for some great lunchbox options for back to school.
1 – Nim's kids
Nim's Kids Fruit Crisps have the same crunch as a potato crisp but include a vitamin hit that's comparable to that found in a piece of fresh fruit. The crisps are full of fibre and vitamins and are less than 50 calories per bag. Nim's Kids range, which includes Amazing Apple, Cool Courgette and perfect Pear varieties are available from Ocado and www.nimsfruitcrisps.com
2 – Emily Fruit Crisps and Emily Veg Crisps
Emily Crisps are available in six delicious varieties and each pack counts as one of your five a day. They are also gluten-free, vegan-friendly and are completely natural. The sweet potato ones are my personal favourite although they were all really tasty.
3 – Rhythm 108 Gluten free, Dairy free, refined sugar-free biscuits and bars.
We were sent a selection of these to try and I was really impressed with them. The sharing bags are great and filling a few lunch boxes and the bars make a good after-school snack. The hazelnut praline bar was my favourite and as I am dairy free I was very happy to be able to eat it.
4 – Munchy Seeds
Munchy seeds produce these fantastic 25g snack packs in child-friendly flavours such as Salted Caramel, Honey and Super Berry. They are a lunch box snack and perfect for boosting healthy fats, vitamins, minerals and proteins.
5 – Fruit Bowl
Fruit Bowl is a staple in my girl's lunch boxes. There is a large selection of Fruit Bowl treats that are perfect for lunch boxes including Fruit Peelers, School Bars and Fruit Flakes which not only taste great, they also count as one of your 5 a day.
6 – Delmonte Squeezie pouches
Del-monte Squeezie pouches are a great way to ensure children are getting their five-a-day. Made from 100% fruit they contain no added sugar or artificial ingredients and are available in 3 tasty flavours: Apple Strawberry & Banana, Apple Strawberry & Blueberry, and Apple & Mango.
Fun Stationery
Both of my girls have grown up to enjoy stationery just as much as I do so they get very excited when it is time for a new school year as they know I will get them some new goodies for their pencil cases. Check out these cool back to school stationery ideas.
1 – I Just Love It Personalised Pencil set
Personalised stationery has never looked so good. With so many varieties to choose from, there will be no losing their stationery within the first week. This set of personalised pencils comes in a stylish box and with a personalised notebook as well. Check out the range of Back to School items available for personalisation at https://www.ijustloveit.co.uk
2 – Maped Helix Licensed range
Maped Helix has a great range of back to school stationery essentials and some fantastic licensed ranges.  These fantastic Pepsi themed pencil sharpeners and pencil case look amazing and the Pringles erasers are great too. Check out their blog for some Back to School ideas
3 – LEGO Iconic stationery collection
We were sent two fantastic LEGO branded notebooks including the Invisible Writer Set which my girls are fighting over and an A5 hardback journal with a great LEGO heads design on the cover and designs throughout.
4- Stabilo easy start pen, Be You Fountain pen and more
We are huge fans of the Stabilo easy start pens which are ergonomically shaped to help with handwriting. Stabilo sent us a variety of different products including a beYou! fountain pen as well as some pastel highlighters and felt tip pens.
A back to school gift
I like to get my girls a little back to school gift and this Smencils set from Crafty Arts is perfect. These are not the type of items I would buy for practical Back to school stationery but it is exactly the type of stuff my girls love.
Another great Back to School gift could be to get them their very own personalised lunchbox set. There is a great selection of back to school gifts from Born Gifted that you can personalise in your own way like this super cute Fairy set.
Back to School storage 
Both of my girls have packed lunches at school. Not just to save me some money but also because they are not keen on the menu. We buy them new lunch bags each year and we have always been impressed with the quality of the Thermos bags.  The Thermos FUNtainer lunch bags are available in a football design or the floral design shown below.
We love the Sistema products and they have a great range which is suitable for all your lunchtime needs. Sistema's new Tritan water bottles are leakproof which is perfect for kids. The Bento style lunchbox is my favourite Sistema product as it has all the little compartments I like to keep everything in its place and cuts down on cling film and food bags. You can also get a handy 1.2l square Lunch Box, a 3-pack Sandwich Box and the Sistema 'Mini Bites To Go' which are perfect for yoghurt, dips and fruit. All Sistema products are BPA and Phthalate free.  For more information on the range, visit 
www.sistemaplastics.com
.
When it comes to backpacks I never want to go for a character as the kids can change their minds quickly. I have had a Mia Tui handbag for years and really recommend them so when I heard that they also did backpacks I knew that they would be a great choice. Below are the blue abstract Sydney backpack and an Oxford folding backpack which is great for PE kits or swimming kit.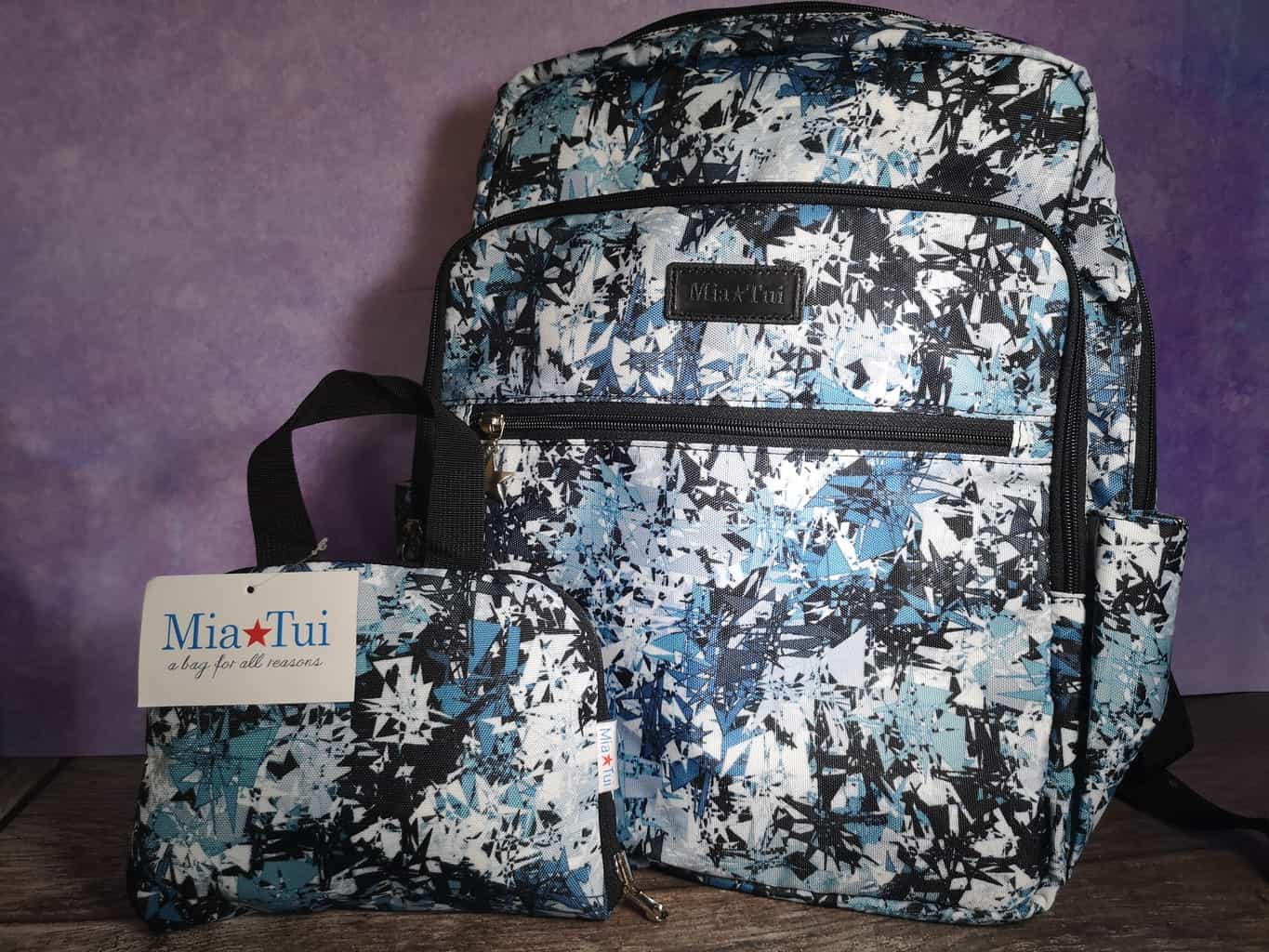 Other ideas
If you are looking to ditch the car and do the school run on foot or on wheels then a new Kiddimoto helmet will ensure they stay safe and look good doing it.
The worst thing about back to school is the fact that the kids catch all of the germs and bring them home with them. Sambucol For Kids is a delicious berry flavoured syrup for immune support in children under 12.  Black Elderberry has more than 50% the antioxidant power of other fruits like blueberries and the added Vitamin C helps to keep their immune systems at their best.
So there you have it a list of ideas for Back to school items you may want to put in your shopping basket. All of the items featured in this post were sent to us free of charge for inclusion.