Prom night is one of the most special nights in a teenager's life. It's a time to dress up and dance the night away with your closest friends. If you're like most people, you'll want to look your best on this special night.
This article will give you several tips for getting ready for prom. So read on, and get ready to have the best prom night ever!
Get Into the Mood
First things first, you need to get into the prom mood! This means getting excited about your upcoming night. Listen to some upbeat music and search for new prom songs, try on different outfits and shoes, and envision yourself looking and feeling great on prom night. You can also start browsing for prom hairstyles and makeup looks.
You can also invite friends over to help you get ready, or even better, go to a professional salon together. This will help you get even more into the prom spirit and ensure that you look fabulous on your big night.
Choose the Perfect Outfit
Of course, one of the most important aspects of getting ready for prom is choosing the right outfit. You'll want to find a dress or suit that makes you feel confident and beautiful. If you're unsure of what to wear, you can always ask your friends or family for their opinion.
Once you've found the perfect outfit, don't forget about accessories! Prom is the perfect opportunity to wear that sparkly necklace or those flashy earrings that you love.
As for the boys, make sure you rent or buy a suit that fits well. You don't want to be uncomfortable all night, and an ill-fitting suit will ruin your prom experience.
The trends come and go every year but some classics never go out of style, like the little black dress or a white button-down shirt. If you're not sure what to wear, sticking to a classic look is always a good idea. Try looking for a vintage prom dress or suit. You can find some great options at thrift stores or online.
Get Your Hair and Makeup Done Professionally
If you want to look your best on prom night, you should consider getting your hair and makeup done professionally. This may seem like a lot of work, but it's worth it. A professional stylist will be able to give you the perfect hairstyle and makeup look to complement your outfit.
You can either go to a salon with your friends or family, or you can hire a professional to come to your house on the day of prom. Pay attention to the way your hair and makeup look in photos and make sure you're happy with the results before you leave for prom.
However, don't forget to pack all of your essential beauty products, like lipstick, eyeshadow, and blush, when you go to the party. You'll also need some bobby pins and hairspray to keep your hair in place all night long.
Prepare Your Skin
One way to ensure that you look great on prom night is to take care of your skin leading up to the event. This means cleansing, exfoliating, and moisturizing your skin regularly. If you have time, you can also get a facial a few weeks before prom.
Start by washing your face every morning and night with a gentle cleanser. Exfoliate a few times a week to get rid of dead skin cells, and apply a moisturizer to keep your skin hydrated. If you have oily skin, be sure to use an oil-free moisturizer.
It's also important to avoid sun exposure before prom. This means wearing sunscreen every day, even if it's cloudy outside. You don't want to get sunburned or end up with dark spots on your skin.
Get a Manicure and Pedicure
Another way to pamper yourself before prom is to get a manicure and pedicure. This will help your hands and feet look their best in your prom photos. You can either go to a salon or do it yourself at home. If you decide to do it yourself, be sure to give yourself plenty of time so that you don't end up rushing.
Pay attention to the way your nails look in photos and make sure they're clean and polished before you leave for prom. You should also consider getting a French manicure or another type of fancy nail design as these always look great in photos.
Don't Forget Your Accessories
Accessories can help you stand out from the crowd on prom night. In addition to your jewellery, you'll also need to think about your shoes, purse, and other accessories. 
Your shoes should be comfortable as you'll be dancing all night long. If you're wearing a long dress, you might want to consider wearing flats so that you don't have to worry about your heels getting caught in the hem. On the other hand, if you're wearing a short dress, you can get away with wearing heels. Just make sure you can walk and dance in them before you buy them.
Boys, don't forget your boutonniere! This small flower is worn on the lapel of your suit and adds a touch of sophistication to your look.
Prepare for Your Promposal
If you're planning on asking someone to prom, you'll need to come up with a creative and romantic way to do it. This is called a promposal, and it's a great way to make your prom date feel special. Choose the right location, time, and method of promposal to make it perfect.
For example, you could ask your date to prom during lunch at their favourite restaurant. Or, you could take them on a romantic hike and ask them at the top of the trail. Of course, when you come for your date before the prom night, don't forget to give them a corsage or boutonniere.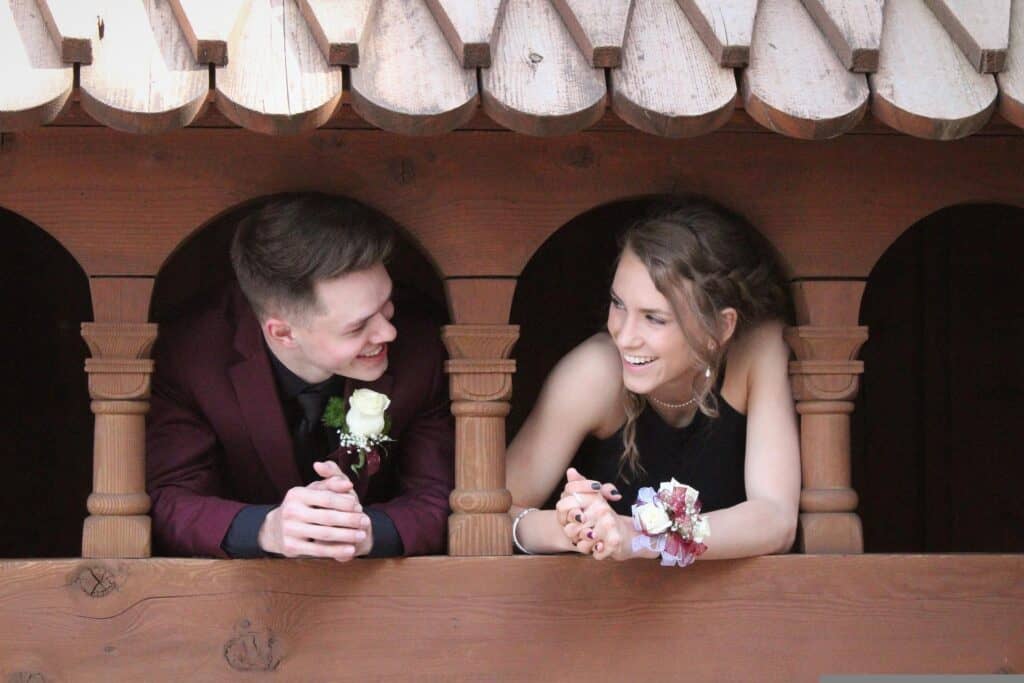 Prom is a special night for high school students and it's important to make sure you're ready for it. These tips will help you look and feel your best on prom night. From getting a manicure and pedicure to choosing the right dress and accessories, we've got you covered.
So relax, make sure to wear something you can dance to the night away and enjoy this special time in your life.