Christmas and food go side by side in my mind but buying a gift for real foodies can be a bit of a struggle. Aiming for quality products whilst still making them look impressive as a gift can be tricky but hopefully this list will help you find something that will be perfect for them to find under the tree this year.
Copper Stone Pans
Copper is a big trend this year and these Copper Stone pans from JML have ultra-non-stick technology which reduced the need for oils when cooking. The mix of copper and stone helps to provides equal heat distribution that heats up fast and stays hotter for longer. These pans are extremely tough and have a scratch-resistant coating with an aluminium body and steel base which makes these pans are extremely durable.
Flamigni Classic Milano Panettone
A really nice Panettone is perfect to take round to someones house for a Christmas party. The Flamigni classic Milano Panettone is a 1kg fluffy vanilla scented Panettone filled with sultanas and candied citrus peel. SousChef have a great range of Panettone and other gifts that are perfect for the Foodie in your life.
The Goodness project Gift Subscription: Vegan, Classic or Gluten Free Monthly Subscription Box
If you need to buy a present for someone with a dietary requirements then the Goodness Project's gift subscription will make an ideal Christmas gift. You can choose from Vegan, Classic (contains vegan and vegetarian) or Free From boxes. Each month the contents changes and they will never feature the same product twice so it is a great way to discover new brands and flavours.
Barefoot Bubbly – Pinot Grigio
I am a big fan of Barefoot so I was really excited by the idea of a Barefoot Bubbly and this Pinot Grigio did not disappoint. A light sparkling wine that is easy to drink and would be great at any party. With subtle citrus flavours and an attractive price per bottle I can see this being very popular with foodies.
Guylian Chocolate selections
I am a huge fan of Guylian chocolates and it seems that my girls have my taste in chocolate as we all fought over who would get to eat these. From the classic praline seashells to the delicious truffles the great thing about Guylian is that they are available in a variety of sized boxes which means they can suit any budget. The belgian classics assortment is perfect for larger gatherings or as a real treat for foodies as it contains three different varieties of Guylian chocolates all in one box.
Apothic Dark
Apothic Dark is a bold new red blend with rich dark fruit flavours of blueberry and blackberry and notes of coffee and chocolate. Apothic Dark is a unique wine that Foodies will love to put to the test  and explore the texture and taste of this unusual offering.
Doves Farm Bread Making Starter Kit
I love giving a nice hamper as a gift and this Dove Farm Bread Making starter kit comes delivered in a beautiful wicker hamper, containing Strong White Flour 1.5kg, Wholemeal Spelt Flour 1kg, Malthouse Bread Flour 1kg, Quick Yeast 125g, bread proving banneton and a dough scraper. For only £30 this gift looks impressive and if you know a Foodie who would love to get into making their own bread then I would definitely recommend this as a gift for them.
Hofmeister Helles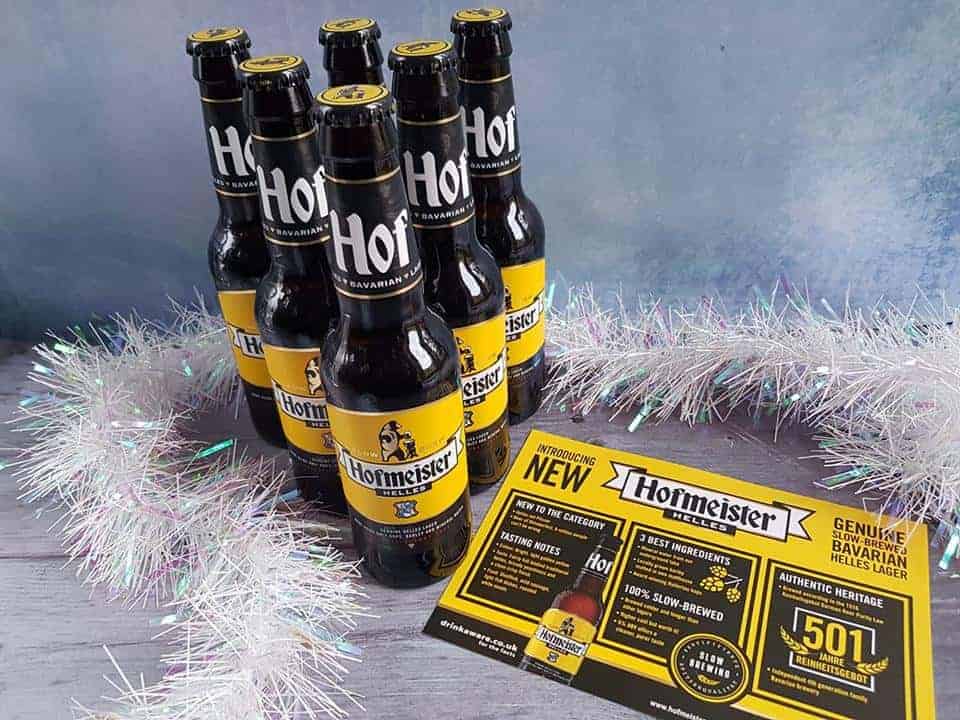 If you are buying for a beer or ale drinker then I would definitely recommend that you check out Hofmeister. A case of 12 Hofmeister 5% ABV Helles lager makes an impressive gift. Available to purchase on Amazon you can even get free delivery with this code FTBHOF17 whilst stocks last.
ZOKU Naughty or Nice Ice cube tray
I love the ZOKU products and these Naughty and Nice ice moulds make a great gift as well as being lots of fun over. Decide if your guests are naughty or nice as you make their drinks or give as a gift for a great stocking filler or secret santa.
SPARQ shaped slate cork topper
Available in lots of different shapes you are bound to find the perfect one for your recipiant. If they drink wine then why not get them a great SPARQ slate topped cork topper, available in letters or shapes including animals, holiday symbols and hobbies among many others.
I was given a set of Victorinox paring knives at an event I went to in September. I was told that they would be the best knives I ever used and I would use them for everything and they were not wrong. I am a huge convert to these knives and highly recommend them for anyone who loves cooking (even those who hate all the prep as these make it so easy!
Another great ZOKU product is this 3 in 1 Vacuum Insulated Stainless Steel flask that holds 600ml. It can keep hot things hot for 6 hours and cold things cold for 24 hours. The 3 in 1 lid allows you to use a straw, pour or keep closed. It is easy to clean and looks great.
Bamix wand food processor
I am a bit rubbish in the kitchen so I need all the help I can get from fancy gadgets. The problem is that our kitchen is tiny. I went to an event in September where I was introduced to the Bamix wand food processor. The Bamix cuts chops and purees raw and cooked veg, cooked meat, frozen fruit and even ice cubes. There are a variety of attachments that you can get for the Bamix and I love this little processor unit which is great for finely chopping things. The different attachments allow you to use the Bamix to beat, whisk and chop as well as grate or slice with the added SliceSy set. The Bamix is easy to use and clean and would make a great gift for Christmas this year.
Can you think of any Foodies gifts that I haven't included?